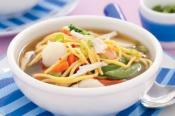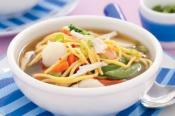 Chicken Noodles Soup 2
Ingredients:
2 oz. cellophane noodles
4 c. chicken stock
1 chicken breast
1 tbsp. oil
1 onion, cut in slivers
6 mushrooms
Scallions for garnishing
Directions:
Place the chicken breast in the stock and cook for 15 minutes. Remove the meat and slice into slivers.
Soak 2 oz. cellophane noodles in cold water for 30 minutes. Drain and cut into 2 inch pieces. Set aside.
Heat 1 tbsp. oil in a wok, add the slivered onions and sliced mushrooms and cook a few minutes.
Add chicken to the wok and cook 1 minute. Add chicken, onion and mushroom mixture to the broth, add the noodles and season with salt and pepper to taste. Garnish with scallions.