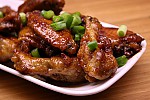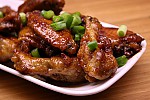 Black Pepper Chicken Wing
Ingredients:
1/3 c. soy sauce
3 tbsp. vegetable oil
1/2 tsp. ground ginger
1/4 tsp. black pepper
1 clove garlic, minced
2 1/2 lbs. cut-up chicken wings
Directions:
Mix all ingredients except chicken wings. Combine well and stir in wings. Cover and refrigerate overnight.
Remove from marinade and bake in a preheated 375 degree Fahrenheit oven for 1 hour. Baste occasionally with leftover marinade.