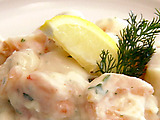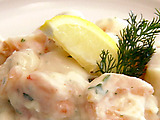 Shrimp and Scallops in Garlic Cream Sauce
Ingredients:
• 5 tablespoons olive oil
• 5 cloves garlic, finely chopped
• 4 cloves shallots, chopped
• 2 cups white wine
• 2 tablespoons chopped fresh parsley leaves
• 2 tablespoons chopped fresh basil leaves, plus sprigs for garnish
• 1 teaspoon chopped thyme leaves
• 1 teaspoon turmeric spice
• 2 cups heavy cream
• 1 1/2 pounds (20/30 count) scallops
• 1 1/2 pounds (16/20 count) shrimp peeled and deveined with tails left on
• 1 1/2 to 2 pounds cooked pasta or rice, for an accompaniment
• salt and pepper to taste
• If you like hot spices you can add to your taste
• Optional: fresh mushrooms – diced
Directions:
1• In a large saute pan, heat 3 tablespoons of olive oil and cook garlic and shallot until translucent, about 2 minutes.
2• Deglaze the pan with the wine, and add parsley, basil and thyme and let the liquid reduce by half.
3• Add the cream and turmeric spice
4• Over low heat, let the sauce reduce to medium thickness.
5• To the now empty saute pan, add 2 tablespoons olive oil, saute scallops, cook until opaque and remove to a utility platter in a warm place.
6• Then use the same pan to saute shrimp just until pink, and remove to the utility platter.
7• Add cream sauce to saute pan to toss the drained pasta or rice with the cream sauce and seafood.
8• Transfer to a serving dish, and sprinkle with cheese, as garnish. Arrange shrimp and scallops on top and garnish with basil sprigs.