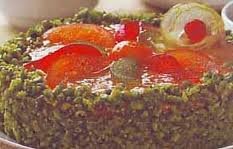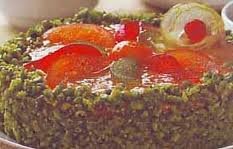 Trionfo di gola
Ingredients:
• 1 sponge cake
• 400 gr. chopped pistachios
• 500 gr. apricot jam
• 200 gr. candied fruit
• For the ricotta cheese filling: 500 gr. sheep ricotta cheese, 300 gr. sugar, 50 gr. plain chocolate, 50 gr. candied fruit, cinnamon.
• For the custard: half litre of milk, 3 tablespoon flour, 6 tablespoon sugar, vanilla, 3 eggs, a knot of butter.
• For apricot jelly: 500 gr. ripe apricots, 1 lemon, 500 gr. sugar.
• For the marzipan: 500 gr. almond flour, 500 gr. sugar, vanilla, 125 gr. water.
Directions:
1• You need to prepare ingredients in advance. Cut sponge cake in two disks; place a disk on a dish and spread apricot jam. Apart prepare the marzipan: dilute sugar in water and cook on a very low flame; turn it off when caramelizing, add almond flour, a pinch of vanilla and stir well to prevent curdling.
2• Pour the mix into a dish, flatten it and let cool down. Roll a sheet of marzipan and cover with jam, the custard and the ricotta cheese cream. Top with the other sponge disk.
3• Spread apricot jelly on top of the cake. For the jelly: wash and dry apricots, take kernels out and put into a pan; add water and cook on a very low flame, pressing now and again; turn the flame off, let it cool down and sieve; put on the flame again, add sugar, a lemon juice and stir for about half an hour.
4• When ready turn the flame off and let it get cold. Cover the cake with the jelly, adorn the edge of the cake with chopped pistachios and decorate with candied fruit. Keep in the fridge for about half an hour before serving.