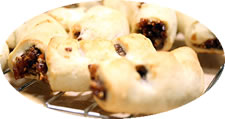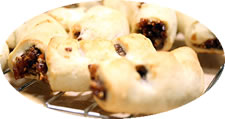 Cuccidata
Flling Ingredients:
• 1 lb of dried figs
• 1 lb of raisins
• 1 jar of honey
• 1 cup of walnuts
• 1 cup of almonds
• Rind of lemon
• Rind of orange
• Sherry
Filling Directions:
1• A meat grinder is best, using a blender can be a big mistake. A food processor may also work.
2• Soak the figs in some water, and stew them for a few minutes to soften them.
3• Chop nuts up fine in a nut chopper.
4• Put a 1/2 cup of sherry and other ingredients into food processor a little at a time, and grind up (no need to add sherry during grinding if you use a meat chopper, you can add that later when you mix in the nuts).
5• Remove from processor and put in large bowl, add nuts and mix well.
6• Add more sherry as needed as to not have mixture too dry. A medium to dry consistency is what to look for.
7• Put in a covered plastic container and store in refrigerator. This can be stored for up to a year. Add a teaspoon of sherry to mixture once a month to keep fermented.
Dough Ingredients:
• 4 1/4 cups All Purpose flour
• 1/2 cup sugar
• 1 tsp. baking powder
• 1/4 tsp. salt
• 1 1/4 cups butter
• 1/2 cup plus 5 tablespoons cold water
Dough Directions:
1• Sift dry ingredients into a large bowl.
2• Add butter and cut in with a pastry cutter or knife until crumbly.
3• Sprinkle the cold water in and toss lightly with a fork until mixed.
4• Add remaining water, a tablespoon at a time, mixing until dough is smooth.
5• Heat oven to 275 degrees and take half the dough on a lightly floured surface, roll it out into a 12 x 18 inch rectangle (it should be about 1/8″ thick).
6• Cut into 3″ wide strips and spread 4 tablespoons of filling down the center of each strip, leave about 1″ on either side.
7• Moisten the bare sides with water, fold over and press lightly with a fork to seal.
8• Cut each strip into 6-2″ cookies, cut and slit in the fold side of each cookie, almost like giving it gills.
9• Place on an ungreased cookie sheet, bending each cookie into a slight curve. Bake about 20 minutes until bottoms are brown.
Icing Ingredients:
• 3 cups sifted confectioner's sugar
• 1/4 cup milk
• 1/2 tsp. anise flavoring
• Dash of salt
Icing Directions:
1• While cookies are baking sift confectioner's sugar into a mixing bowl, add milk, salt and anise flavor and beat until smooth.This is a runny icing that will dry hard.
2• When done baking, remove from each cookie from cookie sheet and cool them on a wire rack, then ice.
3• Repeat with remaining half of dough and filling.
In conclusion: You can use this filling for the italian cookies. Just flatten a small piece of dough and put a teaspoon of filling on it and fold sides up and pinch closed. Bake the same as for the plain cookies. And decorate or leave plain.