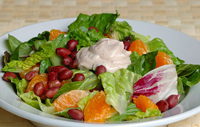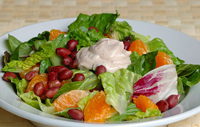 Tasty Salad
Ingredients :
1 can of chick peas
1 can of pinto beans
1 can of peanuts
1 can of corn
1 green pepper
1 red pepper
1 yellow pepper
1 orange pepper
2 tsp chat masala
2 tbsp vinegar
Salt to taste
Method :
Boil the chick peas, corn, and peanuts. Cut the peppers in bite size pieces.
Add everything together and add vinegar and salt to it.
You can add more or less vinegar and salt according to your taste.
Let it soak for more than 3 hours and till everything is soaked in vinegar.
Now take out vinegar and excess water from the mixture.
Add boiled peanuts to it and add chat masala according to your taste.