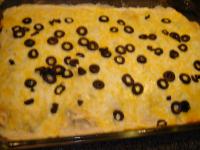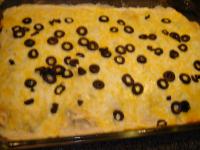 Wet Burrito Casserole
Ingredients:
1 (10 3/4 ounce) can cream of mushroom soup
1 1/2 cups sour cream
1 onion , chopped
1 red bell pepper , chopped
1 lb lean ground beef
1/2 cup mushroom , finely chopped
1 (1 1/4 ounce) package taco seasoning mix
1 (10 count) package flour tortillas
4 cups shredded cheddar cheese
1 (16 ounce) can refried beans
sliced black olives (optional)
sliced jalapeno (optional)
Preparation:
Stir together sour cream and condensed soup. Pour half of this in the bottom of a large casserole or 9×13-inch baking dish, spreading it evenly across the bottom. Brown and cook through the ground beef with the onion and bell pepper; drain any fat. Stir in taco seasoning, mushrooms and refried beans, mixing well. Spoon mixture onto tortillas, rolling tortillas up and placing them seam-side-down in the casserole dish. Top with remaining soup/cream mixture and sprinkle with the cheese. Place a few sliced black olives or jalapeno slices on top of the cheese, if desired. Bake at 350F for 30-35 minutes or until cheese is melted and dish is heated through.