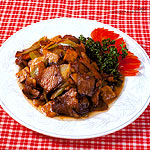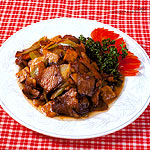 Double_cooked Pork Slices
Ingredients:
600 g pork belly
1 big onion, sliced
2 red pepper
1 tsp garlic, chopped
1 tbsp sugar
1 tbsp wine
2 tbsp hot soy bean paste
3 green pepper, sliced
20g carrot
1 tbsp soy bean paste
3 tbsp oil
Salt to taste
Directions:
Boil pork belly in water for 20 minutes, remove and drain water. Slice into pieces.
Heat frying pan and add in 3 tbsp oil. When hot, add in the garlic and onion, pork belly slice, green pepper, carrot, hot soy bean paste, sugar, wine, 1tbsp soy sauce, then stir fry quickly over high heat, remove and serve.