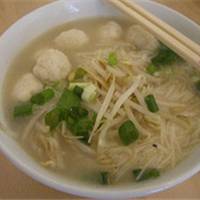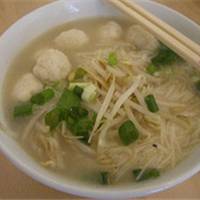 15 Minutes Fish Ball Noodles
Preparation & Cooking Time : 15 minutes
Serves : 4 persons
Per person : 8g fat, 370 Kcal (1554 kilojoules)
Ingredients:
2 tbsps cooking oil
2 cloves garlic, minced
1 cm ginger, minced
6 cups water
3 tbsps Concentrated chicken stock (Maggi ®)
1 tbsp sliced preserved cabbage (optional)
12 fish balls
½ tsp sesame oil
Pepper to taste
300gm thin rice vermicelli (mai fun)
Garnishing:
1 cup bean sprouts, tailed and blanched
1 stalk celery, cut into 1 cm sections
1 stalk of scallion/spring onions, finely chopped
¼ cup sliced fried shallot
Directions:
Heat oil, stir fry garlic and ginger until aromatic
Add in water and bring to a boil. Add chicken stock and preserved cabbage, simmer for 5 minutes.
Stir in fish balls, sesame oil and pepper to taste; cook for 5 minutes until done.
When serving, place vermicelli into individual bowls. Add garnishing and pour hot soup over the vermicelli.