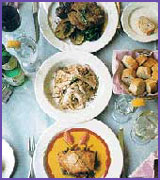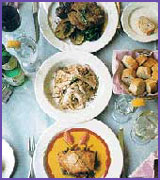 Ingredients :
For the Mohanthaal :
1 cup ghee
2 cups coarsely ground besan
1 tsp elaichi powder
For Khoya (mava) :
1 litre full fat milk
For the Sugar Syrup :
1½ cups sugar
1 cup water
2 tbsp milk
For garnishing :
4 tbsp chopped
almonds and pistachios
Method :
Put the besan in a bowl.
Heat the ghee and pour half of it over the besan.
Rub the ghee into the besan till the mixture resembles bread crumbs.
Put the remaining hot ghee in a kadhai, add the besan mixture and cook till the mixture turns golden brown and continue to stir.
Put the grated khoya and elaichi powder and mix for 5 to 7 minutes.
Take out from the heat and keep it to cool till it becomes warm.
For the Sugar Syrup :
Combine the sugar with water in a pan. Allow it to boil for 10 minutes.
Put the milk to the boiling sugar syrup.
The impurities will form a grey layer. Take out this layer gently using a slotted spoon.
Boil this till syrup is of 1 string consistency keep the syrup hot.
How to Proceed :
Pour the hot sugar syrup over the cooked besan mixture and stir well.
Pour into a greased 225 mm. (9″) diameter thali with 25 mm. (1″) high sides.
Sprinkle chopped almonds and pistachios on top and allow to set for 4 to 5 hours.
Cut into 25 mm. (1″) squares.