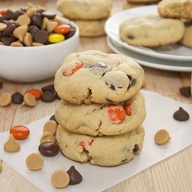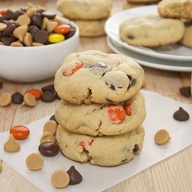 Ingredients:
1 cup margarine
1 cup peanut butter
1 cup sugar
1 cup brown sugar
2 eggs
2 cups flour
1 teaspoon baking soda
2 cups semisweet chocolate chips
Method :
Preheat oven to 325 degrees F (165 degrees C). In a large bowl, beat margarine, peanut
butter, and sugars. Add eggs and beat again. In a small bowl, combine flour and soda, set
aside. Gradually add dry ingredients and beat until creamy. Stir in chocolate chips. Drop on
cookie sheet and bake for about 15 minutes.