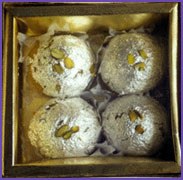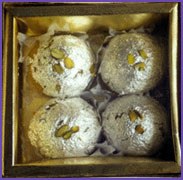 Ingredients :
For patties :
1 egg
A pinch of baking soda
½ cup milk powder
2 tbsp of fresh lemon juice
1 tbsp maida
A pinch of baking soda
For syrup :
2½ cups whole milk
1 cup sugar
3 cardamom pods
For Garnishing :
cashewnuts
pistachios
almonds
Method :
Preparing the milk patties
Combine the milk powder with baking soda and egg to form a pliable mixture.
Knead into soft & smooth dough. Keep aside for few minutes.
Then make small balls from the dough and flatten lightly.
For Rasa Malai :
In a large pan, heat the milk and dissolve the sugar in it.
Add the crushed cardamom pods. Keep it to boil for about 10 minutes.
Stir constantly. Put the milk patties in the boiling milk.
Allow to simmer, cover and cook for 20 minutes until they puff and float on the surface of the milk syrup.
Turn off the heat and cool. Refrigerate.
While serving, place the milk patties on a dessert dish.
Pour the milk syrup over them evenly.
Garnish with chopped pistachios, almonds & cashewnuts.
Keep in a refrigerator for 2 hours before serving.