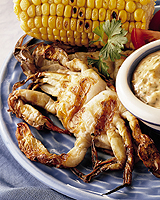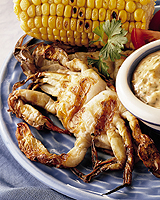 Ingredients:
3/4 cup mayonnaise
1/4 cup finely chopped fresh Italian parsley
2 tablespoons minced white onion
2 tablespoons fresh lemon juice
1 tablespoon capers, drained and minced
1 teaspoon Dijon mustard
Tabasco sauce
Kosher salt
12 soft-shell crabs, cleaned
1 stick (1/2 cup) unsalted butter, melted
Freshly ground black pepper
Method :
To prepare the rémoulade: In a medium bowl whisk together the rémoulade ingredients, including T
abasco sauce and salt to taste. Cover and refrigerate until ready to serve.
Brush each of the crabs on both sides with melted butter.
Season them with salt and pepper to taste. Grill the crabs over.
Direct High heat until the shells are bright red, 4 to 6 minutes, turning once halfway through grilling time.
Serve immediately with the rémoulade.