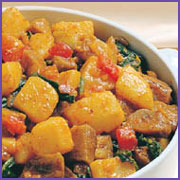 You can publish this article on your website as long as you provide a link back to this page.
This article was last updated on April 16, 2022

Ingredients :
3-4 steams of spinach
1 small papaya (seasoned)
1 cup coconut gratings
tamarind lump (marble size)
1 big onion
8 roasted red chillies
2 tbsp oil
1 small piece gur
salt to taste
Method :
Chop spinach leaves finely. Cut stem into 2″ long pieces.
Skin papaya and slice into pieces of medium size. Wash all the three.
First put the pieces of steam in a vessel, then the chopped leaves.
Pour just enough water and keep it to cook.
When half done, put papaya pieces and turn over.
Put half the chopped onion; and keep the other half aside in a ladle.
When papaya becomes soft, put gur and salt to taste.
Grind together coconut gratings, roasted red chillies and tamarind to a fine paste, and combine the masala with the cooked vegetables.
Put desired quantity of water.
Bring to boil.
Take out from flame.
Season with the remaining chopped onion in oil.
Cover vessel.