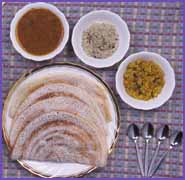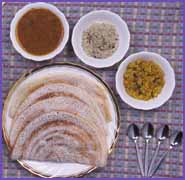 Ingredients :
1 cup green moong dal
1 onion, finely chopped
2 to 3 green chillies, finely chopped
1 tsp grated ginger
Salt to taste
Oil for cooking
Method :
Wash and soak the split moong dal in water for 4 hours.
Drain and grind to make a coarse paste.
Put the onion, green chillies, ginger and salt and mix well.
Heat a non-stick tava and grease it lightly with oil.
Spread a ladleful of the batter on the tava to make a 2 mm. thick dosa.
Smear a little oil from the sides.
Cook on both sides till it becomes light brown.
Repeat the same procedure for the remaining batter.
Ready to serve.