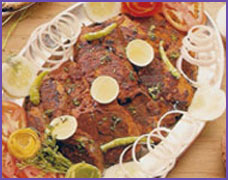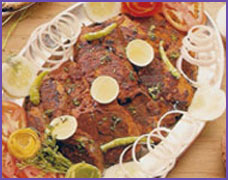 Ingredients :
500 gms rohu fish (cut into pieces)
2 tsp turmeric powder
500 gms spinach
mustard oil for frying the fish
½ tsp fenugreek seeds
3-4 tbsp lime juice
salt to taste
Method :
Sprinkle the fish with salt and 1 tsp turmeric powder and keep 1 tsp turmeric powder
and keep aside for 10 minutes.
Heat the mustard oil and fry the fish a few pieces at a time till they are crispy and
golden brown. Drain and keep aside.
Cut the spinach into small pieces.
Remove the oil left over from frying the fish, leaving only about 2 tbsp in the pan.
Add the fenugreek seeds and allow them to splutter.
Mix in the spinach leaves and one cup of water.
Bring to the boil and add the remaining turmeric powder and season to taste.
Allow the gravy to simmer for a few minutes and then add
the fired fish.
Cover with a lid and cook for another 2-3 minutes.
Put off the flame and mix in the lime juice.
Serve with boiled rice.