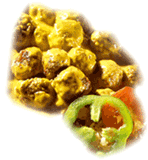 You can publish this article on your website as long as you provide a link back to this page.
This article was last updated on April 16, 2022

Ingredients:
(For the meat balls)
1/2 kg keema
1 tsp ginger garlic paste.
1 tbsp coriander leaves (chopped fine)
1/2 tsp mint leaves (chopped fine)
1 egg
1/2 tsp garam masala.
1/2 tsp ground black pepper
(For the curry)
2 onions (grated)
2 tej pattas
1 tsp ginger garlic paste
2 tomatoes (pureed)
salt to taste, haldi, and red chilli powder.
Method :
Mix the mince with the mentioned ingredients, roll into balls and keep aside. Take two tablespoons of oil and heat it in a pan. Fry the
grated onions till light brown. Add tej pattas, ginger garlic paste, tomato puree, haldi, salt and red chilli powder and fry this well.
Add two glasses of water to the pan and bring to a boil. Immediately, put in the koftas and turn the flame low. Cover and allow to cook
until done.
Add a pinch of garam masala when the dish is almost ready, and take off the fire when done