This article was last updated on April 16, 2022
Canada:

Oye! Times readers Get FREE $30 to spend on Amazon, Walmart…
USA:

Oye! Times readers Get FREE $30 to spend on Amazon, Walmart…
Raise a hand if you feel like your regular, acceptably effective gym routine is actually starting to slowly suck the life out of your soul. It's time for a redux, ladies! Routines can be helpful when it comes to fitness — especially if it helps you commit to working out regularly — but getting stuck in a fitness rut isno bueno, for either your body or your mind (hello, boredom).
To help give your current workout a kick in the booty, we interviewed six stylish, savvy, urban women about the workout routines they love, from spinning to rock climbing to dance. Scroll through to learn all about how these ladies get moving, the food that fuels them, and what makes them truly inspired to work hard — you may finally find the workout that'll make you tick!

Taye Johnson, spinning instructor
"I discovered SoulCycle three years ago, while attending Parsons School for Fashion Design. I needed a job and while searching Craigslist, I found a SoulCycle post — it has been a love connection ever since."
SoulCycle NoHo, 384 Lafayette Street (between East Fourth and Great Jones streets); 212-860-1300.
Clothing, shoes, and jewelry: Model's own.

"Life motivates me to work out. Honestly, I am not happy if I don't sweat for the day. Working out helps me to balance my life, mind, body, and soul — therefore, it helps me to build a better me. Your body is your temple, and you only get one!"

"I've always been fit, but SoulCycle has transformed, sculpted, and reshaped my entire body. I have never been so toned, lean, and cut."

"When it comes to food, I am actually constantly eating, because I am always burning calories and I have a high metabolism. I don't eat pork or beef — my absolute favorite is seafood!"
"To me, the idea of a healthy lifestyle means that you're totally confident and at ease with yourself and everything you take part in. Truly liking, loving, and owning everything about your life. It's just simple, utter blissfulness."

"When I'm not cycling, I do weight training with my trainer, Pilates, and the bar method to round it all out. When I need help getting motivated, music is everything. It is the fuel that pushes your drive. You need that beat to guide your feet!"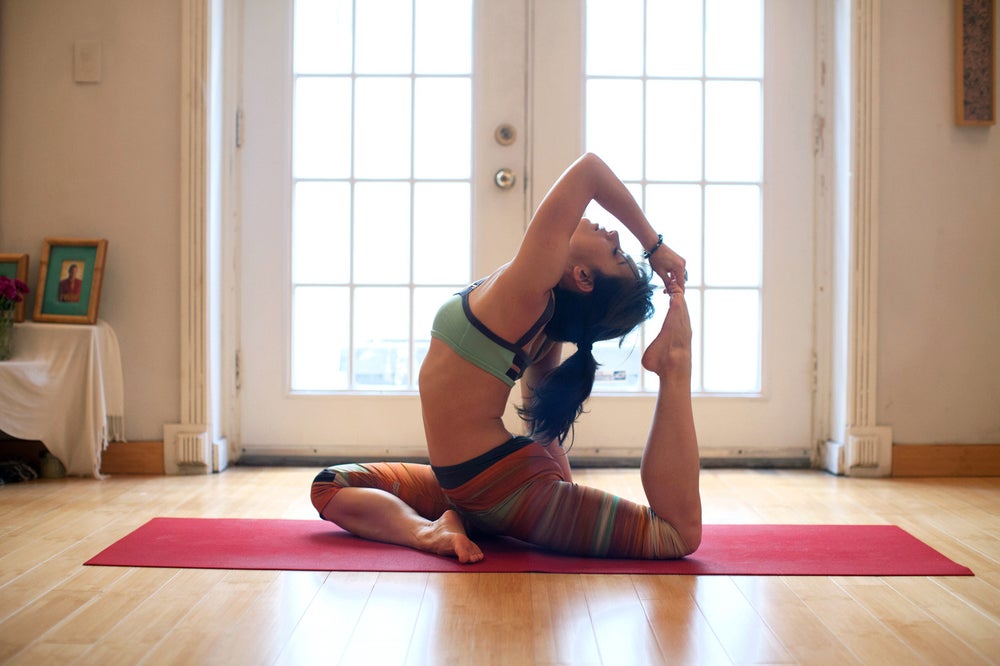 Angelica Kushi, performer and macrobiotic health coach
"My mother did yoga throughout her pregnancy with me. She was still doing handstands at eight months. But I didn't take my first yoga class until I was in college, while I was studying modern dance. My serious studies started in 2008, when I took my first yoga teacher training."
"I like to start my day with yoga. I will either take a class, or practice at home for anywhere from fifteen minutes to an hour and a half, depending on how much time I have. New York can get so busy — my yoga practice has helped me maintain a clear and focused mind throughout my day."
Go Yoga Williamsburg, 112 North Sixth Street (between Berry Street and Wyeth Avenue); 718-486-5602.
Top: VPL Bandeaux Bra, $95, available at VPL. Bottom: VPL Fibular Capri Legging, $245, available at VPL. Jewelry: Pitango Rings.

"I practice what one of my teachers calls 'whole enchilada yoga,' which means I meditate, do breathing exercises called pranayama, study ancient yogic teachings, as well do the physical practice, which is called asana."
"I was raised macrobiotic, which taught me that I am what I eat. The way you eat has everything to do with your energy. I aim to listen to what my body needs, and I eat food to support that."

"I perform in a high-flying action show calledFuerza Bruta, located at Union Square. It's been a dream come true being able to fly, swim, dance, and perform. My favorite part is seeing the audience members go through the transformation from the beginning of the show, when they don't know what to expect to the end, when they are dancing freely in the rain, expressing themselves, celebrating life."

"Since 2008, I have been involved with teaching yoga and meditation to federal prisoners. I predominantly teach women, but I have taught men, as well. The inmates have been the most appreciative students I have ever taught. They are dedicated and take both the meditating and asana seriously."
"It has helped many of them with peace of mind, and increased their patience. One student said she used to always yell at her sister when she visited, but after starting yoga, she was able to sit with her and talk without yelling."

"If you're new to yoga, check out beginner and basic classes to build a good foundation. Find a place that is convenient and has an atmosphere you are drawn to. Then find a teacher you like, so they can guide you along your path."

Clancy McCarty, manager of special projects at Every Mother Counts and producer at Turly Pictures
"I ran a little bit in college on the treadmill at the gym, but I hated it — and never ran more than three to four miles at a time. I actually started running for real exactly a year ago when I started training for the marathon with a team running for Every Mother Counts — the non-profit I work for — to end preventable deaths in pregnancy and childbirth."
Headphones: Molami Twine Wrapped Headphones, $200, available at Shopbop. Sweater: Model's own. Tank top: UA Fly By Stretch Mesh Tank, $29.99, available at Under Armour. Shorts: Model's own. Shoes: UA Micro G Toxic Six Running Shoes, $99.99, available at Under Armour.

"I was expecting to complete the official NYC marathon last year, but when it was canceled because of Sandy, I decided I still needed to run – especially after all that training and fundraising for the maternal health projects EMC funds around the world.
"So, I ran 26.2 miles within Manhattan, and it was a bizarre feeling, because I ended up finishing the full marathon completely by myself, alone on the West Side Highway. I just stopped, laughed out loud, and jumped in a cab."

"I don't think I would have ever been able to get into long-distance running had it not been for something I care so deeply about. Now I'm just addicted to it and need it almost daily to clear my head, get that natural high, and listen to Beyoncé."
"It's actually pretty tough for me in the first seven miles, and then once I get to eight or nine, I am pumped and can keep going for much longer. The first time I pushed through that wall was amazing."

"I try to exercise five to six times a week — either running five miles a day, or yoga. I need it, otherwise I'll have no energy and go to sleep at 8:30 pm!"
"Honestly, I wish I was better with my diet when running. The cravings are insane and you are literally hungry all the time. Training meant a lot of cheeseburgers and beer, lots of pasta for dinner, and breakfast burritos, bagels and lox, and Bloody Mary's following long weekend runs."

"I actually love the city so much more because of how accessible outdoor running is. Yes, the traffic is annoying, but when you get to the West Side highway and see the water, or Central Park — it's just amazing, and so freeing."
"If you want to get into running, don't underestimate yourself — and be smart, so you don't get injured. I highly recommend running for a cause — there's nothing more motivating than knowing you are pushing yourself for something bigger. I recently climbed Mt. Kilimanjaro (and raised funds for EMC), which I would have never done had I not trained and run a marathon!"

Mara Gay, freelance reporter
"I'm majorly into running, but I got into rock climbing for fun when a friend and former colleague took me in December. We had all gotten laid off — but it meant that we finally had time to hang out!"
Brooklyn Boulders, 575 Degraw Street (at Third Avenue); 347-834-9066.
Headband: UA Braided Mini Headband, $9.99, available at Under Armour. Tank top: Nike Running Tank Top, $35, available at Nike. Leggings and shoes: Model's own. Sweater: adidas Boyfriend Crewneck Shirt, $45, available at adidas.

"So much of running, especially long-distance running, is mental. You spend a lot of time convincing yourself that you can run five or 10 miles, or whatever it is. And climbing is similar in that way. It's like a puzzle, figuring out which rock hold to reach for next, and I love that."
"When my aunt, who I was very close with, was diagnosed with non-hodgkin's lymphoma, I needed some way to help and just deal with it, so I ran a half-marathon to raise money for theLeukemia and Lymphoma society. I'm training for the New York City marathon in November — I love knowing that my workouts can actually be making a difference in the lives of others."

"I work out because I want to be healthy and strong. That's what makes me feel beautiful. Also, I grew up playing sports, so I think it's fun!
"Right now, I'm only climbing a couple of times a month. Most mornings, I take the subway up to Central Park and go for a run. I love the trees, the dogs, and the quiet. It's one of my favorite things about living in New York, and it keeps me sane."

"Things I've learned from rock climbing: I'm not as in shape as I thought I was! Also, I'm not a very patient person. It's a graceful sport if you know what you're doing.
"Sometimes you'll see an experienced climber just kind of…float up a wall. That's not the word I'd use to describe what it looks like when I give it a go. At this point in my climbing career, it's probably best to have a big, fluffy mat underneath me!"

"In terms of my diet, I've been a pescatarian for about four years now, so I eat very little meat. But I do love cookies, preferably the peanut-butter chocolate-chip kind! I eat them almost every day. Blueberries, oranges, and beets are staples, too."

Vanessa Packer, wellness entrepreneur
"I started boxing because I had become bored with my workout, and I wanted to learn something new. It's great for the body and the mind to be challenged in a new way. Plus, it's fun to punch and kick things without consequence!"
Church Street Boxing Gym, 25 Park Place (at Church Street); 212-571-1333.
Sweater: Model's own. Bra: VPL Insertion Swim Top, $120, available at VPL. Shorts: VPL Dispatch Peg Shorts, $295, available at VPL. Leggings, gloves, and shoes: Model's own.

"Boxing works different muscles groups than, say, yoga or running. But I think the most benefits come from mixing boxing into your workout routine. Switching it up and alternating workouts is where I believe the best results come from, because all those different muscle groups get sculpted and toned."

"This summer, I'm launching The Beet: An online magazine devoted to food, fitness, and well-being with my partner, the very talented writer Nicole Berrie. One of our main sections delves into the wide variety of workouts that are sprouting up, as well as some of the tried-and-true ones we love. So, lately, I've really been pushing myself to try new classes and visit new gyms, so that our readers will have a guide of the best New York has to offer."

"Working out is my moving meditation. It keeps me balanced, happy, and has become a way for me to release any frustrations or tension that I have. Working out is like brushing my teeth or washing my face — it's just part of my daily routine."

"In addition to boxing, I love running, yoga, dance classes, Pilates, ballet, and spinning. I can get into anything that's sweaty and fun with good music and great energy. Fitness classes in New York are becoming as ubiquitous as restaurants. There are so many places to try — and no reason to stick to just one."

Ivy Elrod, writer and performer
"I was the only little Asian kid in competitive Scottish Highland Dance competitions. I also took family tap class with my parents and baby sisters — we joked that we were the Von Tapfamily! Eventually, I got normal and went into ballet. This was all before I was six."
"I've trained in everything from Flamenco to Dunham. I moved to NYC to study at Alvin Ailey. I danced on Broadway for a bit after that. Now, I'm performing with a contemporary jazz-ish company called the Stanley Love Performance Group."
Peridance Capezio Center, 126 East 13th Street (between Third and Fouth avenues); 2120-505-0886.
Bras: Old Navy Adjustable Strap Sports Bras, $15 each, available at Old Navy. Leggings, shorts, and t-shirt: Model's own.

"I was once a Rockette, and it was intense! Maybe more so psychologically than physically, though it's a rough, athletic gig. Five show days, and a donkey went into labor onstage once…"

"Throughout my dance career, I've suffered stress fractures, busted-up feet. When I was at Radio City, my psoas muscles were so tight that I actually walked around the cold without bending my knees for a couple of months one season. I looked like I had two peg legs."

"When I forget to eat, I always get sick — my immune system goes on strike. I'm generally lucky with the food thing; I don't have some of the same issues many of my peers [in dance] did. I get mental in other ways. Basically, I like to eat, and when I have class or rehearsal or a show, I just gravitate toward stuff that gives me energy and doesn't weigh me down. But I do drink too much coffee!"

"If you're interested in dance, go! Take a class! There are tons of studios with open classes, with loads geared toward adult beginners. Forget the narrative about having to have started young — dance is for everyone."
Photographed by Kava Gorna
Click HERE to read more from Refinery29.
You can publish this article on your website as long as you provide a link back to this page.