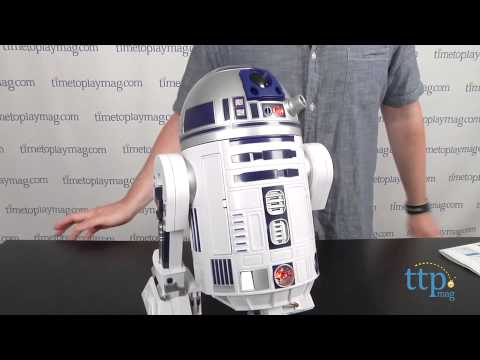 You can publish this article on your website as long as you provide a link back to this page.
This article was last updated on April 16, 2022

Star Wars fans can own an original model of R2 D2 Droid signed by the prop designer Andrew Ainsworth or a real robot
By Stephen Pate – May the Force be with you on May 4th, the official Star Wars Day when you have one of the real R2 D2 Droid models from the movie or a Droid that works like R2 D2.
I found 2 signed original Original Stormtrooper R2 D2 Droid

in Canada at Amazon.ca for the sum of $3,992. Considering its the real movie prop designed for the original Star Wars movie and signed by the prop maker Andrew Ainsworth that's not a bad deal.
There are only 2 left with and they are only available in Canada.
Moving dome with internal lights
Articulated arms that are lockable for mobility sequence
Originally made by the film studios for the first Star Wars film
Lightweight with a superb level of detail including battle scarred details
That's got to be the ultimate Star Wars collectible. An extremely accurate, full size replica of the screen used Robotic Droid, built by Andrew Ainsworth to the exacting standards and quality you can expect from all of our products.
The Droid is battle-scarred and distressed to enhance the authentic appeal of this cheeky character.
You can also get a pretty awesome working model of the R2 D2 with the Star Wars R2-D2 Interactive Astromech Droid

for $177.
This model responds to a limited set of voice commands and talks back, in Droid speak of course.
You get his attention by saying "Hey, R2&Prime and R2 D2 responds to 40 voice commands. Ask him if he remembers his famous friends, like Luke Skywalker, C-3PO or Jabba the Hutt.
In "Game" mode, R2 D2 plays multiple games and spins, dances and plays music, and he even guards your room with his sentry alarm. Each name will stir up a different response depending on R2's "feelings" for that character.
Moves include moving along on his own, turning his front beam on and off, and even playing a secret message when you follow the proper voice commands.
Pretty cool for $177. In the UK available from
Amazon.co.uk

. In Canada the Star Wars Interactive R2D2

is available from Amazon.ca.
Featured image above – Actual prop R2 D2 on the left and toy model on the right.
By Stephen Pate, NJN Network