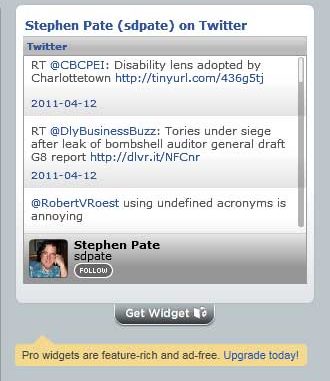 Search for iPhone Twitter widget hits another dead end
Twitter widget from Widgetbox (left)
Apple insists it will not allow Adobe Flash on the iPhone and iPad. This creates lots of trouble for websites including this one.
We need a widget for both Twitter and a music player. Widgets are small bits of software code that you can easily add to a website.
WordPress sites like this one use widgets for everything from commenting to YouTube and Facebook integration.
I thought the Twitter one was found when
Widgetbox
promised there widget was compatible with Apple.
Over the weekend, we switched from the standard Twitter widget to Widgetbox. It looked great but didn't show up on either the iPhone or iPad.
"I checked your account an it looks like both widgets were made with our template, which is flash," wrote the help desk at Widgetbox. "Even with the javascript embed code we still point to a flash file. Because of this, the widgets will not work on an iPhone or iPad."
Another dead end and back to Twitter.
Most of the widgets on the internet use Flash. But Steve Jobs will get his own way no matter how much trouble it makes.
At least they cancelled my subscription to the service without any hassle.
If you know of a decent widget for either Twitter or a music player, let me know.
By Stephen Pate, NJN Network