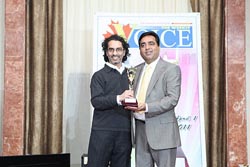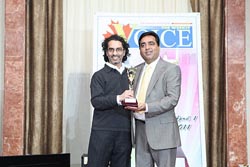 Film Composer and Music Producer Racks up 2 Awards in 1 Month
Vikas Kohli of FatLabs will be celebrating plenty this month as he collects his 2nd award within 9 days. On Friday April 1st, he became the first composer to receive the prestigious Voice Achievers Award in Entertainment. And on Sunday April 10, he became the first composer to receive the coveted Trailblazer Award from the ReelWorld Film Festival.
"I feel winning the Voice Achievers Award was a tail-end probability. And winning a Trailblazer Award was also a tail-end probability. Getting both is anomalous. Who knew that listening to the Sex Pistols and Metallica when I was 13 years old would eventually pay off?" jests Kohli.
However, betting on the pay-off of probabilities isn't a stretch for this mathematician turned musician. Seven years before starting his music production company, FatLabs, Kohli was lucratively applying his mathematical skills to stock investments. Now fully invested in creating music, Kohli has composed and produced numerous award-winning projects in North America, Europe and India. Both of these awards recognize these accomplishments.
In 2008, Kohli was the first Canadian to have one of his song productions performed live at the IIFA (International Indian Film Academy) awards; which is the Bollywood equivalent to the Oscars. In 2008 & 2006 Kohli produced albums for The Responsibles which charted across Canada and were nominated for awards. In 2010, three films Kohli composed for ("I Do. Do I?", "Shanti Baba Ram and the Dancers of Hope", and "The Bee") all won awards at various festivals. In 2010, Kohli co-wrote and produced "Did You Think" by Jennifer Abadesso f/ Moka Only, which hit #1 on Radio Alpha 98.6FM Paris , France and charted in several other European countries.
The Voice Acheivers Awards were initiated to identify, recognize and honor distinguished members of the South Asian Community in Canada who have — with dedication, persistence and focus — become successful in their fields. Held as an annual black-tie gala, the event strives to increase the awareness amongst new immigrants about successful South Asians.
Created in 2002, the Trailblazer Award recognizes the accomplishments of ethnically diverse Canadian film industry professionals whose work has broadened our horizons. For the past ten years ReelWorld has recognized some of Canada's brightest talents for their ability to bring innovative stories to the silver screen and to forge a bright future for the Canadian film industry.
Article viewed at: Oye! Times at www.oyetimes.com