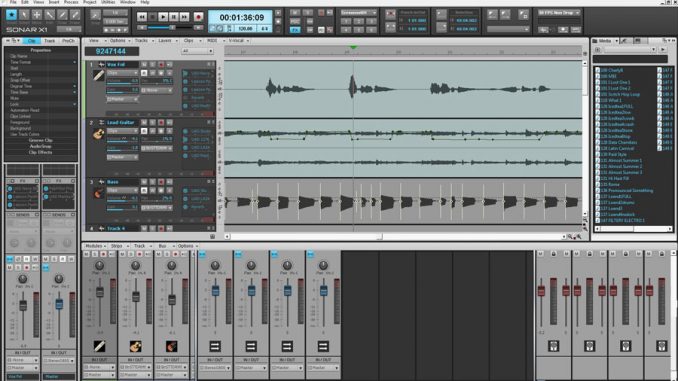 Cakewalk finally has a stable version of its new Sonar digital audio workstation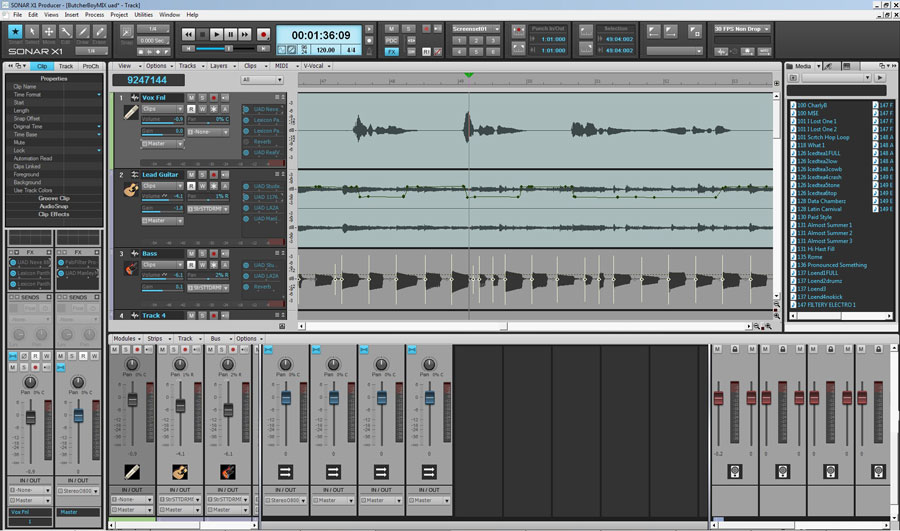 Sonar X1b Skylight interface (click for larger image)
After an abortive release of Sonar X1 in December 2010, Cakewalk has re-released the program as Sonar X1b.
From the happiness that seems to pervade the
Cakewalk User Forum
, Sonar X1b is now ready for prime time.
X1b was released onFebruary 7th March 21st, 2011 and followed up with three smaller patches. (corrected date)
I have used it on several projects and it's very stable and much easier to use than the previous version Sonar 8.5.3.
In this article I'll review the main screen called Skylight. Subsequent articles will cover other new features in more depth.
Sonar X1 does not require a hardware dongle but does need to be registered. It can be used on more than one computer, but only one instance of the program can be used at the same time.

Sonar Technology leadership
Sonar has long been a leader in technology for digital audio recording. It has had 64-bit processing far longer than its competitors. Windows 64-bit programs can access more than 4 GB which allows more tracks, plugins and events to be handled.
64-bit processing is the Holy Grail but it is not without problems. Many of the VST plug-ins for audio FXs are still 32-bit and have to run in translators like BitBridge and jBridge.
Usually that works OK but can result in programs crashing.
I'm on a mission this year to track down native 64-bit plug-ins. The first one I've used that is head and shoulders above the older plugins is
FabFilter Mastering Bundle
, which will be soon covered in an article.
Steinberg's Cubase just got 64-bit processing at Version 6. ProTools recently released ProTools 9 which freed it up from the hardware lock-in but it's still only 32-bit.

New interface improvements
The big improvement in Sonar X1b is the interface. Sonar 8.5.3 was very user-unfriendly to use the cliche. Functions were spread all over the map, buried down deep through multiple layers of menus with confusing icons.
For people who used Sonar Producer everyday. this was apparently not a problem. The old hands disliked the new interface but anyone who wasn't a hardcore Sonar 8.5.3 should love the new look.
The new interface is logically organized. All of the settings for audio, midi, file locations and project are under the screen "Edit…Preferences".
This is so handy to fix one of my big complaints about Sonar 8 that you had to hunt all over the place to find why your audio wasn't working or a control surface stopped functioning.
Not everything is under Preferences. The Plug-in Manager is left out and still under Utilities.

Sonar X1 Skylight
The controversial interface change includes a new look called Skylight, which is the illustration at the top. Again, old hands hate it and those used to logical Windows apps will find it easy.
The Skylight screen has changeable / dockable windows that can be positioned as you like them.
The scheme is very similar to Adobe Premier CS5 which has dockable and undockable windows that can be moved or re-sized. I find that very helpful when working on projects. The screen is fluid and can be whatever I need it to be.
The illustration shows the Inspector (keyboard shortcut I) on the left. Inspector contains the current Track and Master and can change from Clip, Track and ProChannel. I almost always have the Inspector open.
Keyboard shortcuts like I for Inspector turn the feature on and off which is handy to clean up the screen and bring things back into focus when needed.
On the right, Sonar has the Browser (B) which can search your computer for media, midi, samples, loops and FX.
The Browser has an Auto-Preview feature than will play samples and loops when the cursor lands on the file. This is very handy for finding just the right file to use in a project.
Once you find the one you like, just drag it to the Track view and Sonar creates a track.
Drag and drop with Preview is a big workflow improvement.
Track view is where most of your editing takes place and it's improved over Sonar 8.5.3 as well. There are new tools including a Smart Tool that tries to guess what you want the cursor to be. I find using the Select, Move, Edit, Draw and erase tools work quite well. It doesn't take long before the tools become second nature. The editing workspace in X1b works very well for anything I threw at it so far.
MultiDock is the bottom section of the screen that allows you to customize the work surface. You could have the MIDI editor, Matrix view or virtually any View in the program in the
MultiDock. Views can be undocked and float free on the screen.
If things get out of control with too many screens, the Screenset feature allows you to save the screenset, recall one or revert to a standard view. Again, this is similar to the Workspace feature in Adobe Premiere CS5. Once you play around with it, the screens and shortcuts become second nature.
The Control Bar (C) is normally located at the top of Skylight but you can dock it anywhere you like. Depending on the size of your screen you can include all of the functions or just the ones you need most often like Transport, Tool Bar, Snap, Loop, Markers and Punch.
If there is any niggling complaint, Cakewalk has designed Skylight with vision in mind. Most of the icons are large and easy to read. Compared with Cubase 6 which has very small, elegant icons and font sizes, you can see fewer tracks in the main view.
If you want to change all that, an industrious developer has an interface customizing tool called
Sonar Plus
. I haven't used it but there are plenty of people on the Cakewalk Forum who swear by the program.
By Stephen Pate, NJN Network

Related stories