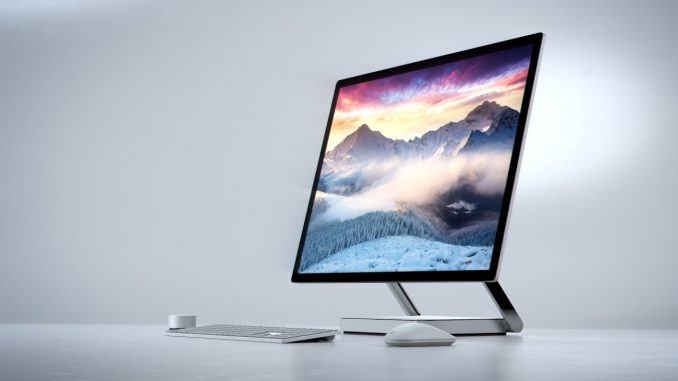 By Stephen Pate – Microsoft has just released the most innovative computer in the market – the Microsoft Surface Studio with Surface Dial

.. The secret sauce is Windows 10 Creator update, Surface technology and the Surface Dial.
It costs $2,999 and if you want one before Christmas you should order it today. Microsoft is accepting pre-orders with mid-December shipping of limited quantities. Only available in the United States on pre-release.
The $99 Surface Dial

is free with pre-orders by December 1, 2016.
Here's the glitzy introductory video.
I predict the Surface Studio will sell out within days. The computer media are gushing with praise for this beautiful 28″ all-in-one computer that is years ahead of the Apple iMac. The Surface Studio is more than an all-in-one and ahead of any other computer at any price actually.
I've been in the computer business since 1984 and every Christmas there is one computer that stands out from the crowd as the best. For the past 5 years, the best has actually been an Apple iPad. Microsoft has just changed the game and taken top spot.
So what's new? First, the Surface Studio can do things better than any other computer. Check out some of these early Studio applications for graphic artists and architects.
Maybe you're not an artist and neither am I but I do create things, like videos and edit my photos. I also like to mix songs and create graphics like personalized greeting cards.
Here's a video showing how to create easy 3D drawings using Paint 3D which is included in Windows 10 Creators update.
With Surface Studio and the Creators update for Windows 10, there are few limits on what we and our families can create on our own.
Microsoft has created a computer that is both beautiful and functional. The 28″ 4K+ screen can be tilted to any angle with one hand and will stay put. The screen resolution and color rival anything until you get into stratospheric price.
Microsoft is also getting ready to update Windows 10 which is at this point already the best desktop operating system in the world. I love Apple iOS on my phone and tablet but Apple's desktop operating system is still not close to Windows 10 – its does not have touch screen, except the tiny touch function bar on the new MacBook Pro.
Touch doesn't work all that well on desktops – believe me I have two 24″ touch monitors – because our hands are still tied to the keyboard and mouse. Microsoft has replaced those 4 decades old devices with the Surface Dial and Surface Pen.
The Surface Dial is an entirely new device that looks like a hockey puck. It's a haptic input device that can change the way we work with computers by moving one hand back onto the screen which has become the drawing board, canvas or drafting table depending on the task. You can see how it works in the videos.
The other hand will be working with the Surface Pen. We've seen and used it on the Surface Tablets – it's very handy for screen input that needs more precision than your finger like drawing, painting or other creative input. Compared to the Apple Pencil for the iPad Pro, the Surface Pen is also a better device with magnetic attachment to the Surface, 2 buttons including erase, and changeable pen tips.
I noticed right away the keyboard gets tucked under the screen and out-of-the-way. We are finally moving back to how people created things before computers – with their hands.
The early Surface Studio apps shown in the videos are not relying on keyboard, mouse and complex menus. That's a good thing because we've been forced to learn too many programs like Photoshop with menus that are not easy or intuitive to use.
There are three model options of the Surface Studio:
Surface Studio – 1TB / Intel Core i5

, 8 GB RAM, 2 GB GPU, 1TB Drive $2,999
Surface Studio – 1TB / Intel Core i7

16 GB RAM, 2 GB GPU, 1TB Drive $3,499
Surface Studio – 2TB / Intel Core i7

32 GB RAM, 4 GB GPU, 2 TB Drive $4,199
I recommend the 16 GB 2nd model which has the i7 processor and lots of power, except for a professional studio which needs the 32 GB and faster GPU. Like most all-in-one's you can't upgrade after the fact.
Summary specifications by model:
$2,999
$3,499
$4,199
CPU
6th Gen i5
6th Gen i7
6th Gen i7
RAM
8 GB
16 GB
32 GB
GPU
GTX 965M
GTX 965M
GTX 980M
2 GB
2 GB
2 GB
Drive
1 TB
1 TB
2 TB
Display
28-inch adjustable PixelSense Display
4500 x 3000 (192 DPI)
4 x USB 3.0
Full-size SD card reader
Mini DisplayPort
3.5mm headset jack
Windows Hello 2 face sign-in camera 5.0 MP camera
Surface Pen
Windows 10 Pro
For detailed specifications see Surface Studio
Click HERE to read more.