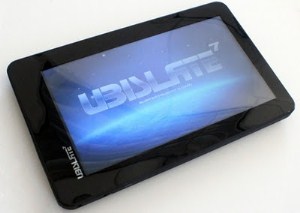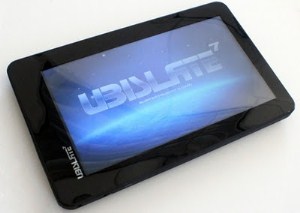 It looks small and dainty, the size of a paperback book, but in that seven-inch touch screen is reflected dreams of a billion people in India who are itching to join a budding computer and internet revolution. More than six years in the making, the $35 laptop, conceived in India and designed indigenously in India, is finally here, and promises to transform education and lives of millions of Indian students and map a path of deliverance through technology. The name is evocative: Aakash, the world's cheapest tablet or laptop, means ether or sky and crystallizes soaring yearnings and dreams of a nation of 1.2 billion people that is rapidly remaking itself as a vibrant knowledge society.
Equipped with 256 megabytes of RAM, the Aakash tablet will use the Android 2.2 operating system from Google and has two USB ports. It has a three-hour battery life and efforts are on to provide a solar charger to avoid dependence on electricity. The tablet is targeted at students and packed with features that facilitate easy internet access and draw students into the burgeoning online education programme the government is promoting through electronic books and teachers. A pilot run of 100,000 units will be given to students for free, with the first 500 handed out at the launch of the tablet last year.
A pioneering initiative of India's human resources development ministry, the pathbreaking project is a collaborative venture between Rajasthan Institute of Technology-Jodhpur and DataWind, a London-based company owned by Suneet Singh Tuli, an NRI.
When the first models of Aakash were unveiled in October last year, it triggered a wave of enthusiasm not only in India but across the world. India, the land of Tata Nano, the world's cheapest car, has pulled off another breakthrough by designing the world's cheapest laptop that was at least a quarter times cheaper than similar economy devices in the market and at least 10-15 times cheaper than ipads. Human Resource Development Minister Kapil Sibal was ecstatic. "The rich have access to the digital world; the poor and ordinary have been excluded. Aakash will end that digital divide," an upbeat Sibal said. "We want to target the billion Indians who are cut off," said Sibal, who was India's Technology Minister before becoming education and telecom minister.
Tuli, whose company DataWind won the tender for manufacturing the first 100,000 Aakash tablets, was equally upbeat. "I truly believe the revolution that happened in the mobile phone industry will extend to the Internet and personal computers" when prices are lowered, he said in an interview. "This is a made-in-India product. Thank you for giving me the opportunity to do this," said a visibly proud Tuli.
The Indian government is brimming with ambitious plans to popularise this "laptop of the masses" and make it a powerful instrument of mass literacy and awareness. The human resource development ministry has managed to cut the cost of the tablet to half ($35) and offered the same to state governments. The National Mission for Education is planning to make the low-cost tablet available to college libraries, with a goal to reach out to 220 million school and college students. It will be specially useful to students studying engineering, science and humanities as video lectures are already pre-loaded on the tablet.
Keeping in mind critique of some features of the tablet, efforts are on to improvise and refine the Aakash tablet. In its latest directive, the ministry has asked the IIT-Jodhpur to come up with additional features like improved net connectivity and better screen usability that make the tablet more consumer-friendly. The new upgraded version, tentatively called Aakash II, with GPRS and longer battery life is expected to be launched in April this year. The commercial version of Aakash is called UbiSlate7 and is available for sales online.
The Aakash tablet will not only be useful for students, but has the potential to bring computer and internet to millions of ordinary Indians, including farmers. "We expect that within five or 10 years everyone will have one – and every year there will be greater capacity. There will be children learning, farmers checking on irrigation or crop prices, pregnant women getting medical assistance, all through the Aakash. It is empowerment on a global scale," said Prem Kalra, who heads a team at the IIT, Jodhpur which helped design Aakash.
India has already over 700 million mobile subscribers, but the internet penetration has remained at relatively low level. According to an estimate, 112 million Indians currently or less than 10 per cent of the population have internet access. The government hopes to bring 600 million Indians in the ambit of the ongoing digital revolution by 2016, which could see India becoming the biggest single internet user population in the world within less than a decade.
Aakash is, however, not just an incarnation of the Great Indian Dream to create a knowledge-centric, tech-literate society, but the world also has a stake in its success. Most of the developing world continues to be afflicted with massive illiteracy and a growing digital divide, a reflection of socio-economic inequalities built into the system. Tuli, DataWind's CEO, says his company has received "firm expressions of interest from a number of countries like Egypt, Thailand, Panama, Sri Lanka, Brazil, amongst others.
With ongoing efforts to refine the Aakash tablet, Aakash could, therefore, prove to be a catalyst for sparking an internet revolution not just in India but in the larger developing world. As the world becomes increasingly interconnected and globalization flattens the artificial divides, the transfer and diffusion of technologies across nationalistic boundaries hold the key to creating a more equitable world and a balanced geo-economic landscape. It was against this backdrop India's Prime Minister Manmohan Singh recently described innovation as "a game-changer," and pitched for an inclusive model of development that benefits not only the rich but also the poor through poverty eradication, development of agriculture and health. "Indeed, we see innovation as truly a game-changer to move from incremental change to radical change. And therefore it is our resolve to build an enabling environment for innovation to flourish in our country," Manmohan Singh said. Aakash, the world's cheapest tablet and a work in progress, underlines that the sky is the limit to innovation, especially when it carries aloft a billion dreams on its wings.
Manish Chand is Assistant Editor at IANS