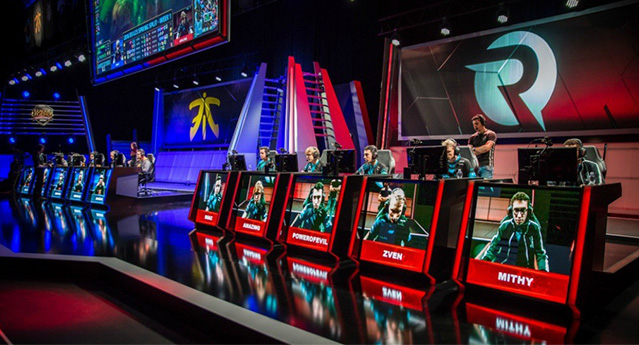 This article was last updated on April 16, 2022
Canada:

Oye! Times readers Get FREE $30 to spend on Amazon, Walmart…
USA:

Oye! Times readers Get FREE $30 to spend on Amazon, Walmart…
Technology touches every aspect of our lives, and has made the world a place that would be almost unrecognizable to a time traveler from as little as 25 years ago. One thing that you might suggest has not changed so rapidly is the world of sport. Sure, live streaming and online betting sites have changed the way we watch and wager, but we still watch the same old sports and play them in the same old way, right?
The rise of eSports could change all that – what was a fringe activity with a small following five years ago has gradually crept up on us, and 2018 could be the year that it genuinely hits the mainstream. Sport might never be quite the same again.
Players, fans and gamblers flock to eSports.
To say that eSport is competitive gaming is correct as far as it goes, but is also a gross over simplification. As popularity has grown, teams have sprung up, garnering sponsorship deals, dedicated fanbases and attention from the online gambling community. Among the latter, it straddles the sectors of online casino gaming and sports betting perfectly; visit your favourite slots sites and you will quickly see links to follow and bet on eSports events.
The fanbase, in particular, is growing at an incredible rate. Devotees follow their teams online, watch matches on live streams and TV, and the real die-hard supporters even attend the cup final events, sometimes travelling from the other side of the world. If this sounds familiar, it is because it is exactly the same level of dedication that you might see with NFL fans from the UK flying across the Atlantic to watch the Superbowl, or tennis followers in North America performing the same trip the other way to see Wimbledon.
The thing with eSports is that it has all happened so quickly. ESports revenue hit around $700 million this year, and that figure is expected to more than double by 2020. The League of Legends World Championship attracted 43 million viewers, including 14.7 concurrently at its peak. To put that into context, the Stanley Cup Finals had viewing figures of 4.7 million, and the Ryder Cup 14.3 million.
Impact on traditional sport
A new type of sport for the 21st century can be no bad thing, and anything that can inject so much cash into the struggling global economy has to be good news. After all, it's not as if competitive gaming will have any impact on traditional sports, is it? Don't be so sure.
Already, some of the top teams in the soccer world are using eSports to find the new generation of stars. A case in point is Premier League leader Manchester City, which has started to sign FIFA stars, who are exponents of the virtual game. Soccer's global body FIFA is planning a 2018 eWorld Cup that will run alongside the physical one.
It raises an interesting question: Is this the shape of things to come? Will we see e-versions of the Superbowl, the Indy 500 and the Grand National taking place alongside the physical ones in years to come? And what will happen if the virtual events start to attract more interest from viewers than the physical ones? If only we could borrow that time machine – the world 25 years from now might look even more alien to us.
You can publish this article on your website as long as you provide a link back to this page.