This article was last updated on April 16, 2022
Canada:

Oye! Times readers Get FREE $30 to spend on Amazon, Walmart…
USA:

Oye! Times readers Get FREE $30 to spend on Amazon, Walmart…Computer makers were showing the latest portable devices running Windows 8 RT at Taiwan show
Acer, Asus, NVIDIA and other Taiwanese computer manufacturers displayed new format computers at Computex last week. Of course, they followed the US auto makers by using pretty girls to display the hardware.
The new tablets, Ultrabooks, and all-in-one computers are based on Windows 8 and ARM and Intel processors. Consumers will have a dizzying variety of new computers to select once Windows 8 ships and these devices hit our shores.
Tablets and laptops merge
With Windows 8, Microsoft is going to merge the operating systems of its mobile and desktop devices. They will all share the Windows 8 Metro interface with desktops and laptops.
Taiwanese computer manufacturers NVIDIA, Asus and Acer are partnering with Microsoft to deliver tablets, Ultrabooks and laptops that share the Metro look,
Ultrabooks are the new hot category – small, ultra thin and portable laptops that use SSD drives instead of hard drives. Apple owns this market with its MacBook Air. Intel is trying to establish itself in this market and needs Windows 8.
It's not clear if all of the Ultrabooks being planned for release will be Intel based or some will be ARM and Windows 8 RT.
Here are a few of the new products featured.
ASUS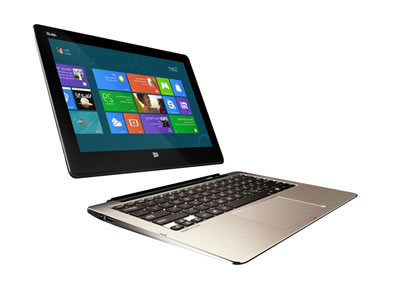 ASUS announced five new devices all running Windows 8 at Computex – ASUS TAICHI, dual screens for an Ultrabook and a Multi-Touch Tablet;
ASUS Transformer Book — a convertible Ultrabook; ASUS Tablet 810 — Microsoft Windows 8 tablet with mobile dock; ASUS Tablet 600 — Windows RT tablet with a smaller screen and mobile dock; and ASUS Transformer AiO — a desktop PC and handheld tablet combined. All of these new devices are in the slide show.
The ASUS 600 W is a tablet that runs Windows 8 RT on the NVIDIA Tegra 3 Quad-Core processor with a 10.1&Prime screen. The 600 ships with "GPS, NFC, WiFi and Bluetooth. It has a 8 megapixel primary camera with an LED flash." Price was not announced.
The ASUS Taichi will give users the "fusion of the notebook and tablet" with a dockable tablet that becomes an ultrabook or laptop.
How many of these new devices we will see in October remains to be seen.
ACER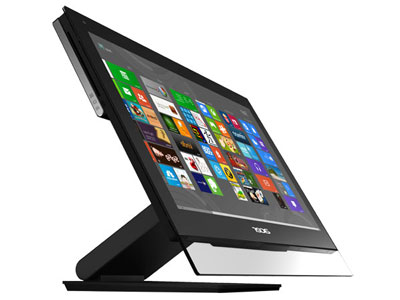 ACER is coming out with a series of all-in-one computers that look sleek and are based on Windows 8 Metro.
This is a form factor that Apple popularized with the iMac and HP had a few models based on Windows 7.
The Aspire 7600u has a 27&Prime display and the 5600u is 23&Prime. Again pricing is not available.
They look gorgeous and the Metro interface will make them easy to use and popular, I predict.
Apple is looking over its shoulder as Microsoft does what they have not been able to accomplish – that is using the same look and feel for tablets and computers. Apple says it can't be done but they are wrong since I've been using Windows 8 and it is better than my iPad.
Microsoft versus Apple and Android
For business and home office use, a Windows 8 RT tablet or ultrabook could be a bargain even if the sticker price is higher than a comparable Apple or Android product. Apple and Google can't include MS Office. Windows 8 RT comes with an embedded MS Office license.
Microsoft is rumored to be charging $85 per device for licensing Windows 8 RT which would seem to make them uncompetitive with Apple and Android. The value equation for Microsoft is MS Office which can cost upwards of $400 per computer to license. Windows 8 RT users get it embedded for free.
Up until now, most Windows (WintTel) computers have been a partnership with expensive Intel processors and the expensive Windows operating system. There are a few exceptions such as Windows phones and some handhelds that HP built-in the 1990s.
The competition from Apple's iPad and MacBook Pro is driving the market today, not desktops and laptops. Apple uses lower cost and lower power consuming ARM processors. The iPad is multi-touch driven and has captured the imagination and credit cards of consumers.
Google is even more competition to WinTel with free operating systems on ARM processors and the Android multi-touch operating system. Android is not cost-free to anyone, since each Android device must pay $5 to Microsoft for licensing.
Microsoft hopes to change the competitive landscape this fall when it ships Windows 8 RT version which delivers Windows on ARM bundled MS Office, the defacto standard in office productivity software.
Grateful photograph credits in the slide gallery to NVIDIA, Manuel Arenas, Pierre Lecourt and Oswalt Ho.
By Stephen Pate, NJN Network
Related Posts:
You can publish this article on your website as long as you provide a link back to this page.