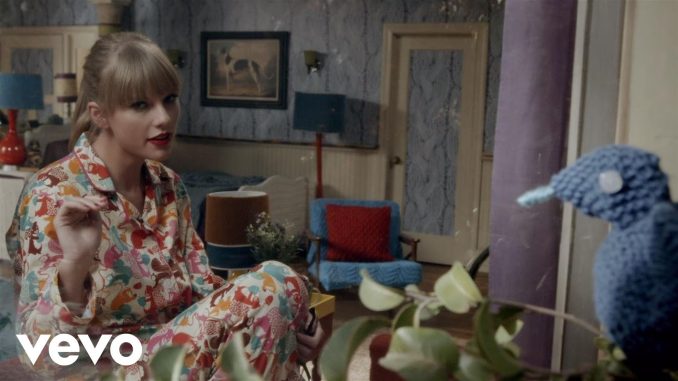 Just when you thought you had the best video camera, the bar got moved much higher
Last week Taylor Swift released the official video for her new hit song from the soon-to-be-released "Red" CD. The video is catchy, fun and a throw back to the cinematography of Robert Altman, Hitchcock and Orson Welles.
Sony has just revealed that the video was taken using their new high-end video camera the F65 which retails for a cool $63,000. The F65 is a professional camera capable of 4K (4096 x 2160) resolution with a 20.4 megapixel Super 35mm CMOS sensor. You likely won't see this camera under your Christmas tree soon.
Taylor Swift's – "We Are Never Ever Getting Back Together"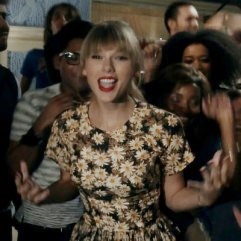 Taylor Swift is one of today's most creative artists which is why she is so popular with her fans. She is very talented, writing most of her songs. She also has a good sense of how to project her image in videos.
"We Are Never Ever Getting Back Together" is more than a spiteful love song. It's a declaration of independence but cute enough to appeal to her audience. The girl is asserting her rights in the failed relationship.
In the video, Taylor Swift is refreshingly portrayed as a wholesome woman, not some half-dressed sex symbol like most of the rock and country music videos today.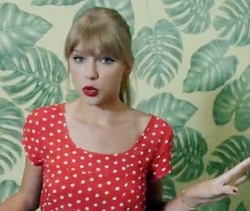 There is a witty counterpoint between Swift's outfits which are 1960s retro flowered and polka dot PJ's, A-line dresses and blouses. Her ex-boyfriends sports the modern unshaven look. The bar scene looks middle-American current. Her band is dressed in goofy fuzzy animal outfits and mug outrageously on camera.
"All modesty had to go out the window" for her 5 outfit changes Swift told MTV.
Unlike most of her earlier material, the music is hip-hop and not country.
| | MP3 | Limited Edition CD | Collectibles – shipping |
| --- | --- | --- | --- |
| | MP3 | Limited Edition CD | Collectibles – shipping |
| We Are Never Ever Getting Back Together – single | | (Pre-Order) | |
| | | Shipping September 4th, 2012 | |
Filming – "We Are Never Ever Getting Back Together"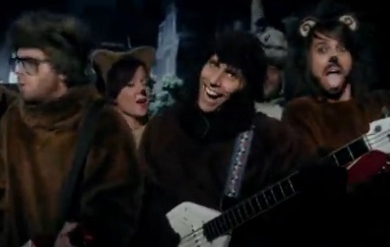 Taylor Swift's video of "We Are Never Ever Getting Back Together" was filmed in one unbroken shot with 6 changes of costume for Swift.
"At one point I had a breaking point" said Swift "where I was like, 'I can't do that many costume changes in that short amount of time!' But we actually ended up being able to do it."
Using a single shot for the video harks back to the Robert Altman's 7 minute and 47 second one camera opening shot in "The Player". Altman was paying homage to Alfred Hitchcock in "Rope" and Orson Welles "Touch of Evil."
At 3 minutes and 35 seconds, the video flows and pulls the viewer into the scenes as sets, costumes and actors are rotated in and out of camera range. The risk for Taylor Swift director Declan Whitebloom is the viewer will get bored. The action must be non-stop even if the camera does not stop.
Taylor Swift said it took 18 takes to get it right. Any flubs would ruin the shot totally. She had to change her outfit 5 times during each shoot.
Working Closely with Taylor Swift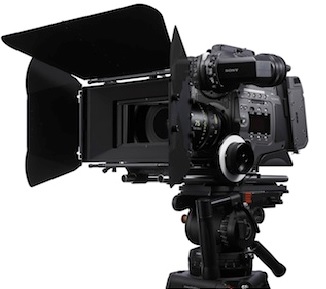 "This close collaboration helped realize the extremely creative vision that Swift, Director Whitebloom and Director of Photography Paul Laufer had in mind, matching the song's storyline with Swift's strong personality and unique artistic expression.
The video's concept was ambitious: one long take using a Steadicam-mounted F65 gliding through six distinct sets, with multiple lighting changes, talent choreography, wardrobe changes and set piece moves."
"The video's success hinged entirely on the precise timing of Taylor and all moving parts, down to every cue," Laufer said. "Added to the mix was a camera that I hadn't worked with before. The perfect world had to happen and actually it did."
"After creating a storyboard for the video with Swift, Whitebloom and Laufer started conversations with Sony about bringing the video to life using Sony's F65 camera and its ability to deliver true 4K imagery."
"This is truly a breakthrough project, totally fitting for someone like Taylor, who is the biggest artist in the world," said Whitebloom. "When I visited Sony's Digital Motion Picture Center and saw the F65 first-hand, I was blown away. This is the future." (
Sony Electronics
)
The Sony F65 is truly a stunning camera with 4K resolution, capable of shooting 72 fps at 4K and 120fps on 2K. The F65 also comes with 16-bit RAW output at 19Gbps on 4K and WiFi connectivity to allow control from a laptop or tablet.
It will be on a few videographer's wish list as today's ultimate camera.
By Stephen Pate, NJN Network