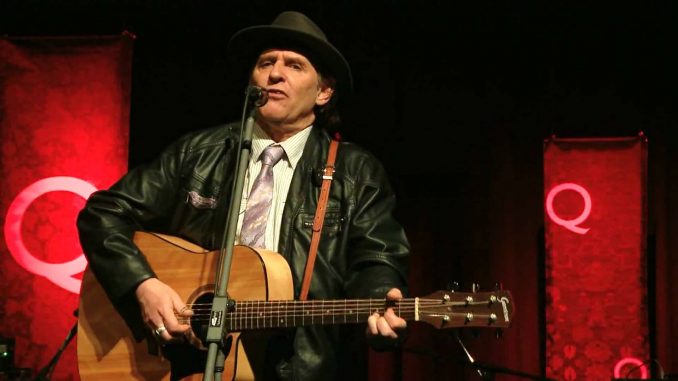 "The Power of Song, Rallying For Ron" to be held in Halifax, Newfoundland, and Toronto

"Power of Song, Rallying for Ron" will take place on Wednesday, Sept. 26th at Dalhousie Arts Centre's Cohn Auditorium at 7:30pm.
The concert will celebrate the man and the music of well-known and much-loved Canadian singer-songwriter Ron Hynes, who has recently been diagnosed and begun treatment for throat cancer.
Other locations
A true testament to Ron, his influence, the inspiration found in his music, and the love for him from his colleagues, friends and fans, similar events are being mounted by artists/volunteers in his home community of Ferryland, NL (Sept. 15 at Southern Shore Arts Centre), St. John's, NL (Sept. 30 at Delta St. John's Hotel Ballroom) and Toronto, ON (Oct. 13 at Hugh's Room).
"Everyone we've approached was eager to help and came instantly on board. It's a really special show coming together and such a great way to rally behind our friend in this time of need. Our goal is lighten the financial strain that comes with such an illness and the long recovery after treatment." states Troy Greencorn.
Halifax
Under the guidance of producer Troy Greencorn (Stanfest) and hosted by actress/comedienne Cathy Jones (This Hour Has 22 Minutes), "The Power of Song, Rallying For Ron" will feature a who's who of NS based artists including Bruce Guthro, Charlie A'Court, Cory Tetford, Dave Gunning, JP Cormier, Laura Smith, Lennie Gallant, Rhapsody Quintet and Stephen Fearing, all backed by a house band featuring pianist Kim Dunn, drummer/percussionist Keith Mullins and bassist Allie Bennett.

The evening will also include a recitation by PEI broadcaster/poet Eric MacEwen, and a reading by NL author Donna Morrissey. Show time is 7:30pm.
All proceeds will go to Ron Hynes to assist during treatment and recovery from cancer. Tickets are $53.50 (tax/service charges incl.) and are on sale now at Dalhousie Arts Centre box office, 6101 University Ave., by phone at 902-494-3820, toll free at 1-800-874-1669 and on line at www.artscentre.dal.ca
Ron Hynes career
Ron Hynes' career as a singer-songwriter spans 40 years. The recipient of the Socan National Achievement Award in 2008, he's also a six-time East Coast Music Award winner, a Genie award winner, earned a host of awards from MusicNL and has taken home both the Artist of the Year and Arts Achievement awards from the Newfoundland and Labrador Arts Council.

Ron Hynes "30 for 60&Prime on CBC Q
Since the start of his career on the coffeehouse circuit in the 70's, Ron Hynes has brought songs of humour and courage, loss and love to devoted audiences across Canada and beyond. Best known for his folk classic, Sonny's Dream, haunting chronicle Atlantic Blue, heart-wrenching requiem Godspeed, his signature The Man of a Thousand Songs and a string of radio hits including Cryer's Paradise, No Kathleen, Roy Orbison Came On, Get Back Change and more, Ron's songs have been covered by dozens of artists, including Emmylou Harris, Mary Black, Christy Moore, Denny Doherty, Hayley Westenra, The Trews, The Cottars, Kim Stockwood and many more.
"The Power of Song, Rallying For Ron" is one of several events being mounted across the country in tribute to and in support of Ron Hynes, also known as "the man of a thousand songs".
Don't miss "The Power of Song, Rallying For Ron" on Wednesday Sept. 26th at Dal Arts Centre, Cohn Auditorium. Tickets are on sale now at Dalhousie Arts Centre box office, 6101 University Ave., by phone at 902-494-3820, toll free at 1-800-874-1669 and on line at www.artscentre.dal.ca
For more information visit: www.hynesite.org
By Stephen Pate, NJN Network
| | CD | MP3 |
| --- | --- | --- |
| | CD | MP3 |
| Amazon.com | | |
| | | |
| Amazon.ca | | |