You can publish this article on your website as long as you provide a link back to this page.
This article was last updated on April 16, 2022
Microsoft is getting ready to update eight Windows 8 core applications but will it matter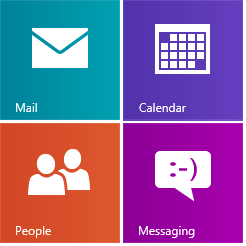 Some sites like Neowin are reporting that Microsoft is ready to update core Windows 8 apps like Music and People in March 2013.
That should be good news except most of these apps are so crude they will need major upgrades to reach any level of functionality that make them useful.
Will this update be worth the wait?
Microsoft should be telling customers openly about their plans and not letting the much-needed improvements get announced as leaks on blogs.
Take People for example. It collects all your people contacts in one place with little organization. There are no categories and all the app does in integrated thousands of names, addresses, phone numbers, Twitter and Facebook links. The first page of People is pretty. Trying to wade through thousands of contacts is tedious and useless. Most people only use the app when forced to, like trying to set up social media sharing, which is broken by the way.
Microsoft can upgrade the simple Mail app but will anyone use it? Their own free online Outlook.com app is a better mail client.
Outlook in Office 2010 or 2013 is the real deal with advanced mail, contact, calendar, and task management. Unless Microsoft can force the Outlook Live and Office teams to work with the Windows 8 team don't expect a miracle.
The closest thing Windows 8 has to a useable app is Xbox Music. All Microsoft has to do is stop trying to sell music, add sound control, the Library, Burn, and Sync features of Windows Media Player 11 and users will have something they like. I'm not holding my breath on that one.
We may be in for a multi-year bumpy ride with Windows 8. Don't get me wrong: I like and use Windows 8 everyday on two computers but it's not near the functionality and bug free experience of Windows 7.
The Windows 8 development team seems like they are on a desert island, cast adrift from the developers who made great products at Microsoft.
It seems like Great Plains Accounting which moved to Windows NT in the mid 1990s. Most of the people on the old product, including senior developers, refused to join the Windows development team. It took Great Plains years to build a mature product that was feature rich and bug free.
According to the sources who read the tea leaves about Microsoft, the core apps that will be upgraded soon include the following:
Windows 8 Apps rumored to be updated soon
Xbox Music
Mail
Calendar
People
Messaging
Photos
Travel
Camera
Bing
Reader
News
Finance
Skydrive
Xbox LIVEGames
Video
Bing Weather
Maps
Sports
When Apple released a half-baked Maps app last fall and dropped the excellent Google Maps, they took a dive in customer satisfaction. Apple iOS maps actually sent people to the wrong place, sometimes dangerously.
Microsoft has shot themselves in the foot by the early release of crude and unfinished Windows 8 apps. The jury is out on their redemption with this upgrade.
I should not turn my nose up at the non-announcement. Any crumb from the table would be better but I doubt I will switch to using Xbox Music, Photos, Mail or the senseless unorganized People.