The $579 Microsoft Surface 2 can easily be a laptop replacement and new tablet and is much better than last year's Surface RT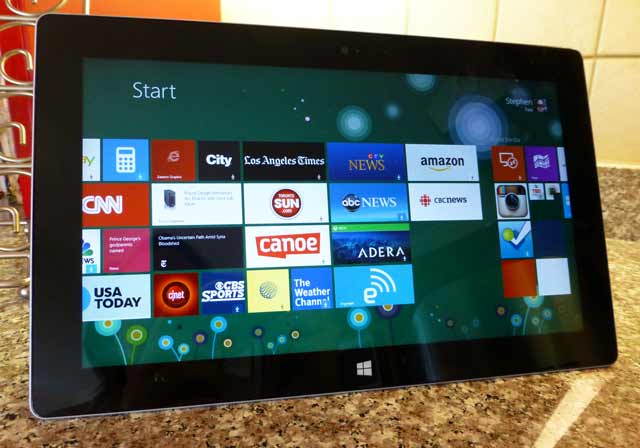 Microsoft Surface 2 – great tablet for people who use Office and Windows (photo Stephen Pate/NJN)
This is the second review of popular tablets you might consider as gifts this holiday season. I already reviewed the Dell Venue 8 Pro and will review the iPad Air and Samsung Galaxy soon.
I liked the Surface 2 since it replicated my Windows 8.1 desktop experience in a portable format. My wife was less impressed.
The Surface 2 costs $449 with 32 GB of RAM, comes with Microsoft Office 2012 RT, and has 2 nifty $130 covers that work as keyboards as well. To me the keyboard is an essential part of the purchase since you will need it and it makes a dandy cover.
I don't think people buy tablets based on technical speeds and feeds. This review is not about that. Word of mouth and your personal reaction to the tablet are more important. Because a tablet can do work and play, try to consider what uses you will put one to. There are links to technical reviews at the end of this story.
I really liked the Surface 2 but my wife was less enthusiastic. My wife, an IT guru, has 3 simple questions that make up her mind about a new tablet. Can she get her mail, Facebook and play Candy Crush.
She liked checking her mail in Outlook and Facebook but complained that games were limited compared to her Apple iPad. She and 300 of her FB friends are Candy Crunch addicts and Candy Crunch is not available on the Surface 2. "Why not?" she asked.
I like the light and cool feel of the Surface 2, the magnetic keyboard and cover, the sturdy stand, using Office, browsing the internet, the music and video players and quickly displaying pictures, videos and the internet on the TV.
Despite the hoopla about the iPad Air being small and light, the iPad Air is almost identical in feel to the Surface 2 except the Surface 2 is widescreen and shows movies better.
The combination of keyboard / cover and integrated stand are better than most available on other tablets. The stand feels sturdy and is a perfect for reading the news at the table. I just left the Surface 2 no the kitchen table or counter, never worried it would fall over, unlike the iPad Air stand which made me nervous with its shaky flimsy stand.
I left the keyboard off most of the time unless I was writing but it snapped into place when I needed it and makes a great cover.
What's with Windows RT
The Surface 2 uses a special version of Windows 8.1 called RT. The Dell Venue 8 Pro doesn't. What's the difference?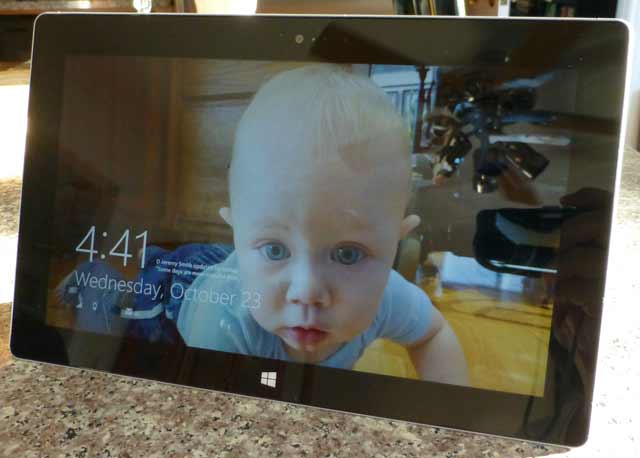 Surface 2 has a highly reflective screen that is still viewable in bright sunlight (photo Stephen Pate/NJN)
Microsoft uses a RISC (reduced instruction set computing) processor in the Surface RT and 2. The Apple iPad and Samsung Galaxy Tab use RISC chips. The upside is they cost less and use less battery power. However, programs for a RISC chip won't work on any another brand of RISC tablet. Apple's ingenious solution for the iPhone and iPad was to use Apps or small application programs instead of software written for the Mac.
After 3 years Apple is the king of apps with more than 475,000 iPad apps. Microsoft has about 175,000 RT apps after 1 year. So if you get your fun from playing or using an Apple-only app like my wife with Candy Crush, it may lock you into wanting an iPad.
The upside is Microsoft has an RT version of the Office, the most popular productivity software in the world. This is a restricted personal use license of Office RT 2013 that can be upgraded to Office 365 for nothing if you have a 5 device license.
That makes the Surface 2 a tablet I can use to get things done. Admittedly, I don't play many games. I spend a lot of time reading articles, many suggested by people I follow on Twitter and Facebook. The Surface 2 is ideal for that.
I am writing the first draft of this article on an iPad Air with the onscreen keyboard. It's OK but I really miss the convenience and ease of the Surface 2 keyboard.
There are apps for most things people want to do, just not as many as with the iPad.
If Windows RT is a turn off, try the Dell Venue 8 Pro which runs regular Windows 8.1 and runs most Windows programs.
Smart TV controller
The Surface 2 is thin and longish with a 10.1&Prime 16:9 HD. It plays movies like Netflix that fill the screen and with the optional HDMI cable, the movie and everything else on the screen can be shown on your LCD or LED TV. This is a direct HDMI connection and not Miracast, a new standard for beaming video to a TV.
We tried watching Netflix which worked better than our older smart TV but not as smoothly as our newer Sony Bravia. The Surface 2 also worked very well watching YouTube videos on the big screen, browsing the Internet and showing home movies and picture shows. Those are all things that should be easy on a Smart TV but are not since most TV's have cumbersome keyboard data entry. You need a keyboard to browse the web.
TV controllers are painful to use for navigation. Smart TV manufacturers fill their sets restrictions like DRM to block sites and videos. And despite trying for years we cannot get the Smart TV to quickly see DLNA equipped computers and the media server.
The only downside was having a long HDMI cable running across the floor and the slight distraction of 2 screens at once.
Surface 2 in everyday use
I found it easy to take the Surface 2 everywhere. The integrated stand has two positions, for table or laptop, and always felt sturdy.
It was great for checking social media like Twitter and Facebook. With the Surface 2 I could check my Outlook and write a story using Microsoft Word, work on an Excel spreadsheet.
Since I could carry the surface everywhere, I used it to create a spreadsheet that calculated where to put the picture hangers on the wall to place perfectly. The beauty of the Surface was I could do a trial spreadsheet at the kitchen table then test it right there where we were putting up the pictures. Some of my original formulas were wrong and I could fix them as we did the work.
Music hub
iTunes and Windows Xbox Music co-exist with a little effort so it was easy for me to turn the Surface 2 into my travelling jukebox. I keep my iTunes library sync'd to SkyDrive and can play most of the music and videos on both the Surface 2 and the iPad.
Xbox Music needs an upgrade and is missing features that are standard in iTunes. For instance, you can't play all your music randomly which I like to do when working around the house. It surprises me with songs I have but had forgotten.
Surface 2 comes with 200 GB of SkyDrive cloud storage free for 2 years, which is more than enough for now. The SkyDrive storage is worth $200, a great value.
It also has a year of free Skype but I didn't try that yet.
I used the Surface 2 but did not keep it. There are so many tablets to try before Christmas. The Surface 2 is definitely on my short list for a permanent pick. If the Surface Creative Music software and keyboard ships soon, that will tip the decision towards the Surface 2.
Other Reviews
"The good: The Microsoft Surface 2 has a sturdy build, smooth gaming performance, and high-quality cameras. Windows RT 8.1 is easier to use than before, and the built-in photo-editing tools and Xbox Music are fantastic features. Office 2013 is included for free, and thanks to a new kickstand angle, the tablet is less likely to fall off your lap. The bad: App support still lags behind competitors, and Windows RT is still incompatible with legacy programs. It's too easy to mistakenly push the tablet into its lower stance, and the touch pad on the Type Cover 2 isn't as comfortable as it was on the previous version." CNET
"Delightful touch interface makes best use of gestures this side of a mime troop. Two angle kickstand. Gorgeous full-screen, high-definition video makes you want to skip the theater. Backlit Touch Cover 2 feels you, bro, and wants to help you express yourself. Two years of 200GB free SkyDrive storage should be plenty to store all your HD porn. Skype calls right from the lock screen."
Wired
"Microsoft has already proven that it can build better hardware than just about any other Windows OEM. Indeed, the Surface 2 is a top-notch product. It's thin and well-built, with a nice display, improved webcam and a generous amount of storage (32GB for $449). Still, recommending the Surface becomes harder when there are other Windows tablets that cost less and run full Windows." Engadget
By Stephen Pate, NJN Network