This article was last updated on May 26, 2022
Canada:

Oye! Times readers Get FREE $30 to spend on Amazon, Walmart…
USA:

Oye! Times readers Get FREE $30 to spend on Amazon, Walmart…Is this the ultimate guitar amp – tons of clean power and crunch from low to high volume?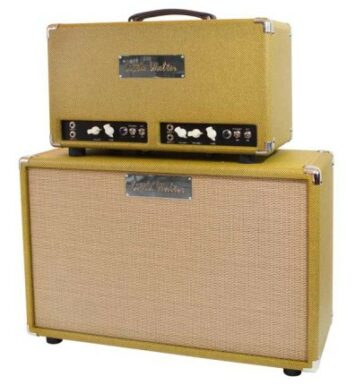 Little Walter 50/22 Twin Guitar Amp – the ultimate?
I stumbled across the Little Walter 50/22 Twin guitar amp in December 2013 issue of Premiere Guitar.
Ho hum another hand-wired tube amp with a big price. It wasn't until I listened to the sound clips that I realized this amp has everything.
I'm a clean guitar guy, like those sweet tones from my Gibson ES-335 and Telecaster before I sold it.
I have a cool little 5 watt Fender Eric Clapton EC Signature Vibro-Champ 5W 1×8 Hand-Wired Tube Guitar amp and a Marshall tube to keep me happy. However, neither of them play as clean as the 50 watt side of the Little Walter 50/22 Twin.
The Little Walter 50/22 Twin amp is actually two amps in one. The left side is the 50 watt and the right side is the Little Walter 22W, a 22 watt amp that has lots of crunch and dirt. Try the sound samples on headphones and tell me what you think.
Little Walter amps are popular with pedal steel guitar players and country artists like Vince Gill. They are built to deliver tone at any volume range, with or without distortion.
The 50/22 Twin seems like the perfect amp to me, except the price is about $5,000 with a twin cab. Of course, if we have nothing to wish for what's left eh?
The Little Walter 50W and the Little Walter 22W can be bought separately for about $2,500 each. You save $1,000 buying them in a one head. Cabs are $700 for a single 12&Prime and $975 for a twin 12. There are select dealers for Little Walter tube amps across the United States. In Canada, 12th Fret carries them but does not list them on their website. I found them frustratingly vague trying to find out what inventory they had, which is unusual for 12th Fret. In Quebec, Musique Max has Little Walter amps.
Nifty 50 from Premiere Guitar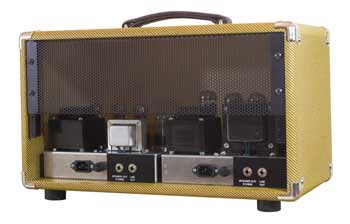 Little Walter 50 22 Twin tube amp showing two amps in one
The 50-watt 6L6 side sounds glorious. Clean tones crackle and shimmer. Ample headroom provides strong note definition and a sense of "air" around each note. Meanwhile, the stout transformers, streamlined circuitry, and resonant cabinet deliver buff lows. Individual notes and frequencies never leap out too aggressively, even when digging into a bright, single-coil bridge pickup.While this is the Twin's "clean side," distortion sounds equally excellent. Tones grow fatter and smoother as you advance the gain, yet they retain strong attacks. (This thing excels at Stones-style raunch.) The amp is biased hot, though-diming the volume introduces harsh, buzzy distortion. Most players will probably get best results by following builder Bradbury's recommendation for parking the volume knob somewhere in the middle of its range and shaping the tone via touch and guitar knob adjustments.
Let's Get Small
The dual-6V6 22-watt side nails what most players love about early tweed amps- and then some. It distorts gorgeously at relatively low volumes, and reveals many lovely overdrive colors as you advance the volume.
Just as the "clean" amp generates great distortion sounds, the "dirty" 6V6 amp offers fabulous clean tones. They're not as sparkly as the 50-watt tones-there's always a bit of "hair" at all but the lowest settings. But you may be startled by how chimy and clear this small amp can sound. (I don't know if I've ever heard such strong pick attack from an overdriven 2x6V6 circuit.) Parking the volume anywhere near the middle of its range puts you in that sought-after sweet spot where you can control the breakup by touch alone.
This tone control feels more linear than that the one on the 50-watt side-there's a smooth, even roll-off across its range. (Personally, I'd set the tone to max, station the volume at 2 o'clock, and make all tonal adjustments by playing them.) This amp is small but powerful, simple yet versatile. It sounds as good as any tweed-influenced head I've heard.
Plugging into both amps simultaneously via an A/B box sounds as good as you'd hope. You can dial in many useful tones that blend smooth, small-amp overdrive with big-amp definition.
For the complete review, see Premier Guitar Little Walter Twin 50/22 Amp Review
By Stephen Pate, NJN Network
You can publish this article on your website as long as you provide a link back to this page.