You can publish this article on your website as long as you provide a link back to this page.
This article was last updated on April 16, 2022
Microsoft won big in the Engadget Holiday Gift Guide with 2 of the top 3 tablets running Windows 8.1


Microsoft Pro 2 and Nokia Lumia 2520 rated top tablets by Engadget
Engadget gave Microsoft the top recommendation along with the Apple iPad Air in Engadget's 2013 Tablet Holiday Gift Guide
Who would have thought a year ago that Microsoft would claim top spot for its tablets running Windows 8.1. What a difference a year makes.
I have used the Surface and iPad Air and liked them both. I do agree with Engadget's assessment.
What the iPad Air lacks is a decent stand, connectivity and the $499 price is a come-on. A 64 GB iPad Air costs $699 compared to the Surface at $899. Of course, Apple has the most apps so people who want games and apps will love the iPad Air. People who want to use Microsoft Office or Windows programs will love the Surface or Lumia 2520.
In the group MONEY IS NO OBJECT Engadget rated three tablets as best choices – the Apple iPad Air, Microsoft Surface Pro 2 and the Nokia Lumia 2520. The price class ranges from $500 to $1,000 per tablet.
Nokia Lumia 2520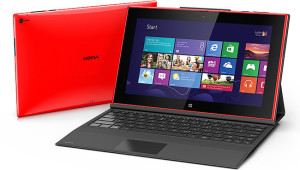 Nokia Lumia 2520
The Nokia Lumia 2520, soon to be a Microsoft product since Microsoft is buying the Nokia Lumia product line, runs Windows 8.1 RT and comes with 4G communications. The Lumia 2520 is the only one of the three top rated tablets to have 4G under $500.
Hot on the heels of the Surface 2 launch comes the Nokia Lumia 2520, giving shoppers a second option running Windows RT. Though this is Nokia's first attempt at a Windows slate, it's mostly a success, with a thin, lightweight design that makes it easier to hold than Microsoft's Surface. Of the two, it also has a brighter, more vibrant screen, along with a better camera. If you'll be doing a lot of typing, we'd still suggest you get the Surface 2 instead, but if you want a Windows tablet to use as an actual, you know, tablet, the Lumia 2520 is the better option. Engadget
Surface Pro 2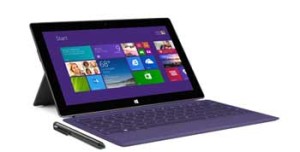 Microsoft Surface Pro 2
The Surface Pro 2 is more like an ultrabook or laptop than a tablet. At 10&Prime in screen size, it sports a full Intel 4th generation processor that can run circles around any tablet out there. What I like is the no compromises part of a Surface Pro 2 – you can run any Windows 8.1 software you want on the Surface Pro 2.
Can't decide between gifting your loved ones a tablet or a laptop? Split the difference: Microsoft's Surface Pro 2 promises to be both. The second-generation slate isn't the best tablet out there, but staggering improvements in performance and battery life shore up its predecessor's shortcomings as a semi-convertible notebook – and the build quality is still top-notch. Engadget
Apple iPad Air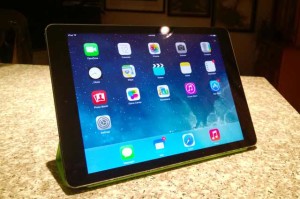 Apple iPad Air (Photo NJN/Stephen Pate)
The iPad Air is the best tablet Apple has ever shipped with the new A7 processor, gorgeous Retina display and ultra light weight. The Air part feels good in the store but you get used to it quickly and all three of these tablets feel relatively the same.
The latest iPad is lighter, thinner and smaller than any of its predecessors – by a rather significant margin. The Air, which now weighs only a pound, also features Apple's powerful A7 chipset, compatibility with more LTE networks, faster WiFi and a few other minor enhancements to the overall experience. It's still an iterative jump, but much more iterative than the last two iPads that came before it.Engadget
For the rest of the recommended tablets from $100 and up see Engadget
Text and image courtesy Engadget.
By Stephen Pate, NJN Network