You can publish this article on your website as long as you provide a link back to this page.
This article was last updated on May 20, 2022
Google relentlessly driving the cost of technology downward with free or cheap long distance on your computer that is easy to use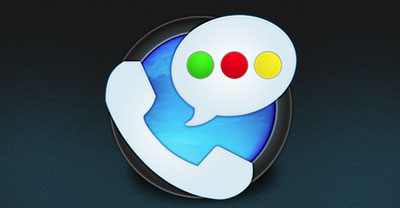 If you have a Gmail account, you can upgrade it today to place free long-distance calls from your computer with Google Voice.
Over 1 million free calls were made today already on Google Voice.
I called my son in Bracebridge, Ontario and found him shopping for groceries. Free. He may have had cell phone charges.
"I'll call you back from my land line," he said. I placed other calls, talked to people and left voice mails. All free.
People called back. "What's the call from California?" they asked.
"Google Voice" I replied. Google of course is using their computers in Mountain View, California to route calls.
All you need is a computer with a speaker and microphone or a small headset. Most laptops have both.
Feeling adventurous? Google will let you video chat for free as well. Fix your hair first.

Setting it up
The setup is so simple. Click the
link
and watch the video. Then click
Try it Out
.
Follow the easy steps and it will install small programs in your browser. I think in my case it logged me out and back into Google email. It happened so quickly I forget.
The application will calibrate your speakers and microphone. If it doesn't find them automatically, click on the lists and pick the speakers, microphone or headphone you are using.
Let's have a look at the screen.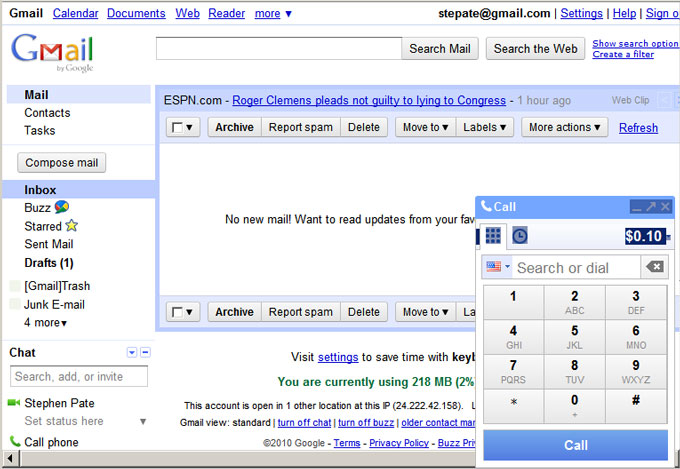 Down in the right hand corner is a new box that is used to make calls. You can enter the number from the keypad, from your computer or from people in the gmail address book.
This is a good time to import more people into Gmail from Outlook along with their telephone numbers.
Strategically Microsoft should have done this before. Google will be winning over millions of Microsoft's customers with free phone calls.
The calls work quickly. The sound is awesomely clear.

Incoming calls
To receive incoming calls, you need to upgrade your Gmail Voice account and Google gives you a new phone number. That service is restricted to the United States for now but is expected in Canada shortly.

Long Distance
Where it says $0.10 is the rate screen. If you dial Africa, Europe, Asia etc there are small fees, lower than any other long distance carrier. Most destinations are 2 cents per minute.
Skype is going to be ticked, and just on the eve of their IPO.
By Stephen Pate, NJN Network