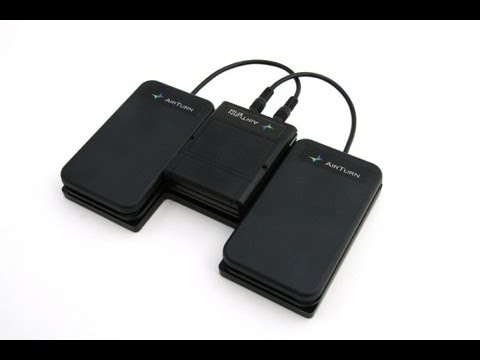 This article was last updated on May 26, 2022

Part 2 – You can dress up your iPad Music Score Reader with accessories like a hands free page turner and iPad holder
In Part 1 of this story I figured out how to make a cool sheet music reader from an old Apple iPad – An Old iPad Can Replace a Yard of Music Books. In Part 2, I will cover some of the accessories you will need.
Page turning
Some songs are more than one page long, like Bob Dylan's 10-verse "Desolation Row" or the 9-verse "Gates of Eden". I have thousands of songs memorized but we all get brain farts during performance when the first or next verse draws a blank. Sometimes I forget what key sounds best for a song, or how to play a weird chord that rarely gets used. Songs that span two pages or more are common.
Like most musicians, I like to keep both hands on the instrument. I'm not rich enough to have someone turning my pages for me. Therefore you a good hands-free page turning system that works with GigBook and forScore, or the app you choose. The most popular systems use two or more pedals for back page and next page with a Bluetooth connection to the iPad.
One of the brand name page turning pedals is the AirTurn DIGIT with 2 ATFS-2 Pedals and Pedal Board for about $99. It includes 2 pedals and the Bluetooth transmitter. The Bluetooth communication can be flaky but it works well enough for practice. AirTurn has an internal rechargeable battery so there are no cables required during use.
The AirTurn can also use two Boss FS-5U Nonlatching Footswitch instead of their own pedals ATFS-2 pedals to turn the pages. The BOSS FS-5U pedals are about $30 each, so unless you have the pedals already or don't like the AirTurn pedals that may not be the best solution. The FS-5U also makes a soft click when switched which could be annoying in a studio setting and need short mono 1/4&Prime to 1/8&Prime cables.
I have a pair of FS-5U pedals on the shelf so I may try to make them work with just the AirTurn Bluetooth BT-105 Page Turner which is only $59. That puts my budget up to $256.
PageFlip Cicada Bluetooth Pedal Automatic Page Turner is a second popular page turning pedal solution, for about $89. The PageFlip is an all-in-one unit and like the AirTurn will work page turning for other programs like book readers and with other tablets. It operates on 2-AA batteries or a USB cable.
Amazon.com customers give AirTurn and PageFlip high marks so it comes down to which one you like more. One reviewer on YouTube disliked the AirTurn. He said the AirTurn pedals were hard to use. One thing about YouTube – you get lots of opinions to help make decisions.
Page Reader Holders
Since I didn't buy a new iPad Air or a Surface 2 Pro for this task, I have money left over to think about a music stand holder for the iPad music reader.
At present, the iPad is resting on my regular music stand but I would like to get rid of the big black surface in front of my face. It also makes the microphone position tricky.
There are holders that attach to a microphone stand, holders that come with their own stand and holders that will screw on the top of a standard music stand. There are so many choices, I am still thinking about what to buy. Most of the holders cost under $50.
I like the iPad holders that fit on a microphone stand since I am a singer. I am going to read all the reviews to see which ones hold the iPad securely.
Most mic booms would be unbalanced by a 2 lb. contraption so mounting on the stem seems wiser. For practice, a stand-alone iPad holder would be more compact. if you click-through to the links, there are multiple choices. If you already have an iPad holder you are satisfied with, drop a comment below.
Most of the negative reviews are about plastic parts that wear out and flimsy holders. Even at $50, the budget is still only $306 for my new / old iPad sheet music reader. Start here with iPad holders for musicians

to find the one that suits you.
Android, iPad Mini and Microsoft tablets
I tried using 7&Prime and 8&Prime tablets for music readers, using a PDF reader. The screens are too small to display the text at a reasonable distance for a musician. That excludes the iPad Mini, small Android tablets, and 8&Prime Windows tablets which are just too unreliable for a music reader.
The Apple iPad has the largest choice of programs for sheet music reader. I assume they own this market. If you have an Android tablet, your search could start with How Can I Read Music on My Tablet?
The Android app MusicNotes is available from the Google Play. The music for MusicNotes has to be purchased from the developer which is both limiting and expensive. No doubt there will be more apps for sheet music readers for both Android and Windows 8 in time.
The moral of this story is that you can never go wrong keeping Apple gear. Follow me on Twitter at @sdpate or on Facebook at NJN Network and OyeTimes.
By Stephen Pate, NJN Network
You can publish this article on your website as long as you provide a link back to this page.