This article was last updated on May 26, 2022
Canada:

Oye! Times readers Get FREE $30 to spend on Amazon, Walmart…
USA:

Oye! Times readers Get FREE $30 to spend on Amazon, Walmart…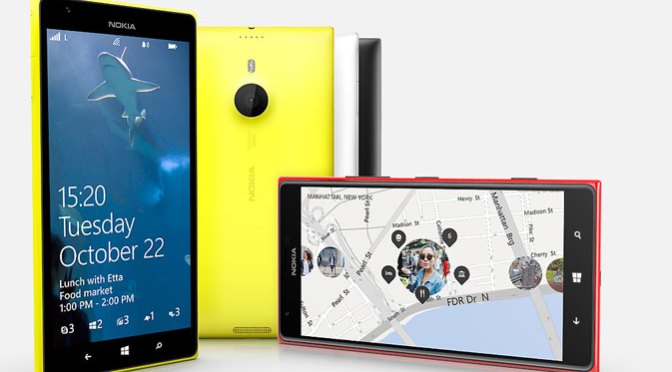 If size matters then the 6&Prime Nokia Lumia 1520 is the right smartphone
By Stephen Pate – The LTE version of Nokia's Lumia 1520 Windows Phone is available in Canada and the USA supporting 4G /LTE.
Engadget reviewers called the AT&T1520 the best Windows Phone device yet, with user reviews at 9.4/10.
When the Lumia 1520 was released as an AT&T phone in late 2013, it was criticized for not having wireless charging and only 16 GB of RAM. Nokia builds smartphones for world markets. The US AT&T version Lumia 1520 was a second-rate phone that did not show the phone's true potential.
Nokia has released a new version of the Lumia 1520, now model RM-938, that is unlocked and includes the wireless charging, 32 GB of RAM plus an other 32 GB of MicroSD. Some stores call this model 1520.3.
Matthew Miller updated his ZDNet review in June to include the RM-938 model 1520. "The Lumia 1520.3 (RM-938)… has all the benefits of Nokia innovation that makes this version of the Lumia 1520 currently the best Windows Phone available."
The 1520.3 Model RM-938 is compatible will all Canadian and US GSM / HSPA / LTE networks. This ends the compromise if you bought the phone but it wasn't capable of the fastest LTE phone speeds.
Is bigger better
Most smartphones, other than Apple, have 5&Prime screens. The Galaxy S5 has a 5.1&Prime screen. People want larger screens.
Not only is the Lumia 1520 screen large enough to replace a mini-tablet but the Lumia 1520 has a 20 megapixel PureView camera and stereo, high-definition audio recording. The video and audio make the Lumia 1520 the best smartphone for recording music.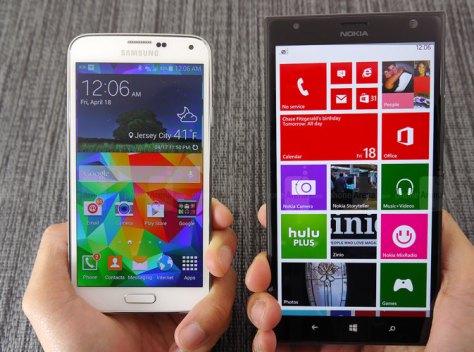 When I got the 4.5&Prime Lumia 920 in March 2013, the conventional wisdom was that people liked the iPhone 4 screen at 3.5&Prime. The conventional wisdom was wrong. Apple-aholics put up with small screens but people were moving to 4.5&Prime screens like the Lumia and Samsung Galaxy.
My wife said I didn't need a new tablet at Christmas because I used the 4.5&Prime Lumia for Outlook, texting, Facebook, photography, Twitter and reading the news on the internet. She was right, as always.
My 4.5&Prime Lumia 920 phone is my tablet. I also have a Surface 2 tablet which is great for writing this blog at the kitchen table since it has a keyboard/cover.
However, I want a larger phone to make surfing the internet and all the other things I do even better. While I won't be giving up the 920 right away, the 6&Prime Lumia 1520 LTE is on the short list for next phone.
The latest hardware feeds and speeds
Along with having one of the best smartphone cameras at 20 MP and 4 stereo ADR mics, the Lumia 1520 has the fast Quad-core 2.2 GHz Qualcomm Snapdragon 800, 32GB of RAM expandable to 64GB with MicroSD, Windows Phone 8.1, 6&Prime HD (1920 x 1080) display with gorilla glass, outdoor brightness control, 3400 mAh battery, among other specs too many to mention. Check out Microsoft, who now own Nokia smartphones, for details.
What you really get that's cool with a Windows Phone is the tight integration with Windows 8.1 desktop with Office 365 and OneDrive.
Where to Buy
Getting your own Nokia / Microsoft Lumia 1520 is not as simple as going to the local Future Shop or Best Buy. AT&T have them in the USA but who wants a model with half the memory?
If you want the USA/Canadian LTE model it is called Lumia 1520.3 or RM-938. It comes in Black, Yellow and White colors but that becomes irrelevant when you add a cover, which is highly recommended since Nokia phones are slippery.
The phone you buy should be unlocked unless you buy it from your carrier. Unlocked phones free you from the carrier and save mucho dollars. My unlocked 920 cost $350 and saved $360 in the monthly fees in the first year.
B&H Photo have the RM-938 for $569 plus shipping. That's a good price and B&H have simplified making sure the phone is compatible with your local carrier with their network chart. Shipping to Canada is about $15 which is reasonable.
OmegaCell in Edmonton, Alberta have the 1520.3 RM-38 for $775.
Newegg.com has the Lumia 1530.3 RM 938 for $574 plus freight.
The International version, called RM-937 is available online from Amazon.com

from $473 for the Nokia Lumia 1520 Black Factory Unlocked RM-937 4G/LTE 800/900/1800/2100/2600 International version. Amazon.com does not seem to have the 1520.3 RM-938 model with USA and Canadian LTE support. They are not being specific enough in the part descriptions to confirm if they do or don't.
Follow me on Twitter at @sdpate or on Facebook at NJN Network, OyeTimes and IMA News Buzz.
By Stephen Pate, NJN Network
You can publish this article on your website as long as you provide a link back to this page.