This article was last updated on May 27, 2022
Canada:

Oye! Times readers Get FREE $30 to spend on Amazon, Walmart…
USA:

Oye! Times readers Get FREE $30 to spend on Amazon, Walmart…
The Surface Pro 3 or 4 make excellent sheet music readers without special apps
By Stephen Pate – I've been using an iPad Air for an electronic sheet music reader but need to find something more suitable. Along with the need for a larger screen, my criteria for a sheet music reader are:
Portable
Easy to use in performance or practice
Program or App to Read music notation and chord charts
Use Bluetooth page turning
Allow annotations
Standard operating systems – iOS, Android or Windows 10
Cost less than $1,000
A website suggested using a Windows laptop for the job and that got me thinking about the Surface Pro 3 or 4. Yes, either of them work quite well. The Surface Pro 3 is on sale at the Microsoft Store USA

(Canada

) and Best Buy USA (Canada), I picked the Surface Pro 3 i5 for this story, cost $940 Canadian.
Full size sheet music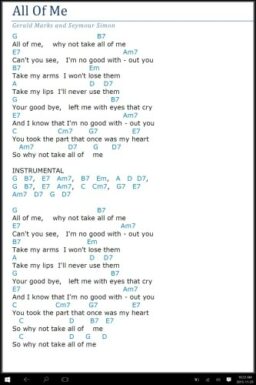 Since I started using the iPad for a music reader I've been frustrated by the small size of the text and music notation. Sheet music is 8.5&Prime by 11&Prime or larger. The iPad screen is only 5.75&Prime by 7.5&Prime obviously too small.
To read music vertically, the page has to shrink to 32% of full size or be split into two pages horizontally.
Neither choice is preferable. When the text is smaller, it's harder to read. Paging down for the 2nd half can be distracting but possible with a Bluetooth pedal.
My criteria for a better system are that the sheet music reader must be simple and not distract from the musical performance.
On this quest for a better full-page music reader I discovered the Surface Pro 3 or 4 solution. The Surface Pro 3 are very similar so I will call this simply the Surface Pro 3 solution.
The Surface Pro 3 screen is 6.5&Prime x 10&Prime with 6.5&Prime x 9.5&Prime available to display sheet music. By removing the white space in the margins, the Surface Pro 3 can display the text and music the same size as the printed page.


Removing the margins is extra step in creating PDF sheet music files but worth the effort if you like full-sized text. Since Windows 10 takes up .5&Prime at the bottom of the page, the display area is actually 6.5&Prime by 9.5&Prime.
I used Adobe Acrobat 9.5 to crop the 8.5 by 11&Prime pages to fit the screen. There are other PDF programs that can do the same thing. I used cropping of Top: .5&Prime, Bottom: 1&Prime, Left: .75&Prime and Right 1.25&Prime. Those settings may not work for every song but you can preview and make adjustments.

The basic applications that come with Windows 10 like Adobe Touch Reader, OneDrive and Explorer along with the Surface Pen make the Surface Pro an efficient full-page sheet music reader.
Portable
The Surface Pro 3 is definitely portable with battery power and WiFi connectivity. It's lighter and more agile than a laptop turned sideways.
With the touch keyboard, the Surface Pro 3 weighs 1.76 pounds, about the same as an iPad Air with a case. However, it's tall size in portrait mode makes it a little unwieldy for holding. I recommend you get amusic stand holder or clamp to keep it from falling during practice and performance.
Easy to use in performance or practice
The good thing about the Surface Pro 3 is Windows 10 which is a full operating system, uses standard programs, and has a tablet touch mode to keep use simple. The bad thing is Windows 10 can be complex and you don't want that in the middle of performance.
It's important to be ready with the Surface and simplify the performance cycle and that can be done. Performance setup for the Surface Pro in Windows 10 includes:
Charge the battery
Set the Display mode in Settings, System to Text 150%, Orientation Portrait
Turn off notifications in Settings, System, Notifications and actions
Display turn on Settings, System – Tablet Mode
Delay screen blanking and going to sleep for some longer interval with Settings, System – Power and Sleep. The screen can be set to something longer than the time it takes to page down or change songs and sleep should be set longer than the total performance.
Program or App to read music notation and chord charts
Music Reader apps import the sheet music in PDF format from Dropbox, iCloud or from email. The apps sort the sheet music by genre, composer, or set list. With the iPad and Android you need apps to perform the organizing tasks because they don't have a file manager.
The apps also help with annotation but can't do much more. Few of them can transpose the key of the song unless they support MusicXML files.
There aren't many Windows 10 apps for reading notation and chord charts but with Windows you don't need an app since the functions are already there. The free Acrobat PDF Touch Reader works well for display and annotation.
File Explorer sorts the sheet music in sub-directories by genre, composer, or set-list. Adding PDF meta-tags to the sheet music makes that information searchable by the file manager and some programs.
OneDrive automatically shares the music between a desktop computer and the Surface Pro 3 Most of the apps make you import the sheet music from Dropbox, iCloud or from email. All of those steps are not necessary with Windows 10.
Bluetooth page turning
I tested the Surface Pro 3 with the AirTurn PED Wireless Foot Controller. After a software update, the PED worked reliably turning pages forward and backwards. The PED can also be set to turn pages up and down and move through the music a few lines at a time.
The update uses an iPad which demonstrates that the iPad has been the most popular device for sheet music readers up to this point.
I hope to also test the PageFlip Firefly Bluetooth/USB Page Turner Pedal soon.
Allow annotations
It seems that the sheet music needs changes or notes. Either a key or tempo change or something is wrong and needs editing.
The Surface Pro 3 and 4 come with a Surface Pen that is a cool device for markup of songs. The free Acrobat Touch Reader supports sticky notes, highlighting and strike through on the sheet music files. The annotations can be saved with the file and shared on OneDrive.
This is probably the best solution I've found for making notes on sheet music. Acrobat Touch Reader and the Surface Pen are easy to use. Most of the iOS and Android apps I tried allow you to make notes but not export your notes.
Standard operating systems – iOS, Android or Windows 10
The Surface Pro 3 comes with Windows 8.1 with a free upgrade Windows 10. Surface Pro 4 comes with Windows 10 installed.
Granted Windows can be complex for this task; however, it does give you a fully featured tablet that can do almost anything. From my experience, setting up the Surface Pro in advance can minimize the complexity during practice and performance.
Cost less than $1,000
The Surface Pro 3 costs between $699 and $999 from Microsoft Store USA

(a little more in Canada

) and Best Buy USA ( also in Canada). The i3 model is more than adequate for displaying sheet music. However, the Surface Pro i5 model is the sweet spot for power and price since it can do much more when you want a tablet for other programs.
The Surface Pro 4 is the newer model and has a slightly larger screen,by .3&Prime. That is not a noticeable difference. 8.5 x 11&Prime sheet music still has to be cropped. It runs cooler and faster if that matters to you for other programs. The Microsoft Surface Pro 4 starts at $899 and $1,179 in Canada.


.
I recommend getting the Microsoft Surface Pro 4 Type Cover (also in Canada

) for either the Surface Pro 3 or 4. It's a better keyboard. The Type Cover costs between $130 and $170 which may put the price up or above $1,000 but it sure is handy.
If I could find a larger screen tablet that didn't require cropping my sheet music, it would be the preferred solution. As it is right now, the Surface Pro 3 or 4 are the best I can find.
By Stephen Pate, NJN Network
You can publish this article on your website as long as you provide a link back to this page.