A trip across Halifax in my wheelchair geo-location tagged on Flickr, Google Maps and Street View
Riding in an electric wheelchair gave me a unique vantage point to photograph Halifax, NS in my birthday. Friends said "Enjoy your day!" so I took them at their word.
The location tagging to maps is a laborious process when you want to make the location exact. There is still a lot of duplication of effort.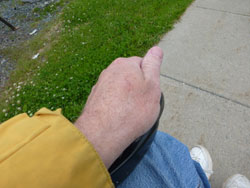 It was a cool, overcast day that started sunny. Typical of Halifax, it got cold, overcast and threatening just as soon as I decided to take a 5 km ride across the city.
The photographs were uploaded raw to Flickr for the slide show above. They are also linked to Google Maps and Street View.
Flickr
Flickr integrates the photographs with Yahoo Maps.
The original positioning in Flickr uses the GPS feature in the Panasonic Lumix DMC-ZS20. Each photo had to be moved to the exact location to make the mapping logical.
The camera has anti-shake which isn't enough when your jogging along at 5 km per hour in a wheelchair.
Google Maps
You can also follow the trip on Google Maps and Street View.
View Halifax Wheelchair Adventure in a larger map
Google Street View
If you have a Google account, photographs can be uploaded to Panoramio and geo-linked to Google Street View. The scene linking is not correct and I am still moving photographs to the real place. All the photographs have to be labelled again as well.
The process might have been automated from Lightroom or Adobe Bridge.
Panoramio, a Google program, review all submissions and only accept photographs that meet their guidelines. They are looking for exterior shots that show place. I believe people in the picture is not allowed.
About 70 photographs in the series were submitted to Panoramio. 40 were accepted at some early stage. It takes more than 30 days for photographs to appear in Street View.
It would be faster to send photos wirelessly to one service and have them propagate to everywhere, but this level of integration on the internet is pretty amazing.
By Stephen Pate, NJN Network
You may also like –