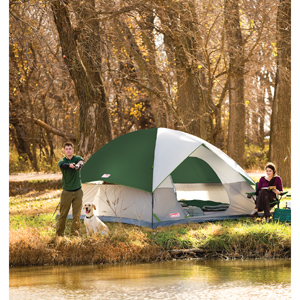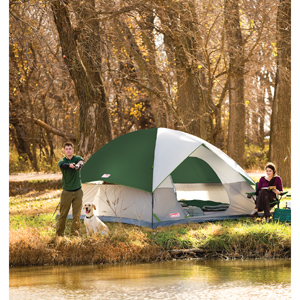 Gearing up is easy as 1, 2, 3 with Coleman, Stearns and Sevylor
Whether pitching a tent in the backyard or sleeping under the stars in a provincial park, camping is a great way for families to reconnect and enjoy time together in Canada's great backyard. In fact, eighty-nine per cent of Canadians, almost 9 in 10, have been camping at least once in their lives – making camping one of Canada's most popular outdoor activities. But for first time campers, it can often seem daunting trying to get organized and prepare for the weekend away. Luckily, Coleman, Stearns and Sevylor, offer all the necessary items to make camping and other summer outdoor activities like boating and swimming, not just fun, but functional.
"We've been helping families and friends get together to socialize and connect with nature for as long as we've been making lanterns and stoves. Camping is the original social network," says Ezio Sbrizzi, Vice President and General Manager, Coleman, Stearns and Sevylor Canada. "Today's innovative gear makes short work of putting up the tent and cooking meals while maximizing comfort, convenience, value and family time."
Enjoying the Great Outdoors:


–
Even on a rainy day, Coleman
®
tents, featuring Coleman's exclusive WeatherTec™ System, are guaranteed to keep you dry and comfortable. For first-timers preparing for their initial foray into the woods, the new Coleman
®
Family Camping Package is the perfect place to start. All of the basics, including a tent, two chairs and two sleeping bags, are packaged together in a handy carrying case.
–
Forget an uncomfortable night of sleeping on the ground. Coleman's newDouble High Pillow Top QuickBed
®
Airbed with 120V Built-In Pump will ensure a good night's sleep and plenty of energy for whatever your outdoor activities entail. Quick to inflate, it makes a night under the stars an enjoyable experience.
–
Outdoor food prep has never been easier than with Coleman's line of on-the-go cooking systems.
Coleman's new All-in-One Trio Cooking System offers a stove, grill and griddle in one unique portable product, allowing for easy transport and compact storage. No need to rub two sticks together to get it going – InstaStart™ ignition allows for fast, dependable lighting without matches.
–
Keeping food and beverages cold and safe are campsite "musts". Coleman offers a wide range of coolers in all shapes and sizes, boasting stacking capabilities for easy packing and storage. The new Coleman
®
50QT Wheeled Xtreme
®
Party Stacker™ Cooler holds 84 cans, has a telescoping handle and large, durable wheels – perfect for day trips, picnics or long weekends getaways.
–
No trip is complete without fun and games. Inflatable beach toys like Sevylor's Triangle Party Platform and Convertible Lounger encourage active play by the lake. Puddle Jumper swim aids by Stearns help kids build confidence when they take their first plunge.
Stay Afloat and Buckle-Up:
Boating and water-play can be a great way for families and friends to get outdoors and enjoy the summer season, but taking the proper precautions is very important to ensure that summer fun is safe fun. "Eighty seven per cent of Canada's annual drownings result from people not wearing a PFD," says Pat Gray, Director of Marketing, Stearns Canada. "So it's easy to see why buckling up could easily save your life."
Stearns, lifejacket experts and a leading manufacturer of high quality outdoor products, are the go-to manufacturer of personal flotation devices. Offering infant, child, youth and adult PFDs in a variety of vibrant colours, families can rest assured that when they purchase a Stearns PFD, they are investing in safety.
Gray offers parents tips on what to look for when buying a PFD for their child:
Children's PFDs are fit according to the child's weight, so find the appropriate size and have your child try it on. Do not buy a PFD that is too large in the hope that he or she will grow into it.
·
PFDs should fit snugly, and not ride up over the child's chin or ears. If there is more than 7.6 cm between the child's shoulders and the PFD, it is too big and could do more harm than good.
Safety features should include:

1.
A large collar for head support that also has a grab strap on it
2.
Waist ties or elastic gathers in the front and back
3.
A safety strap that goes between the legs to prevent the device from slipping over the child's head
4.
Sturdy, rust-proof buckles and zipper
"Parents who want their kids to wear a PFD should lead by example and wear one too," adds Gray. "Adult PFDs are fit according to chest size so they should feel snug, but still allow room to breathe and move freely."
Proper care of your PFD is just as important as finding one that fits. PFDs are designed to save lives –they should never be used as a seat cushion or fender for the boat. Using it in this manner will comprise its effectiveness.