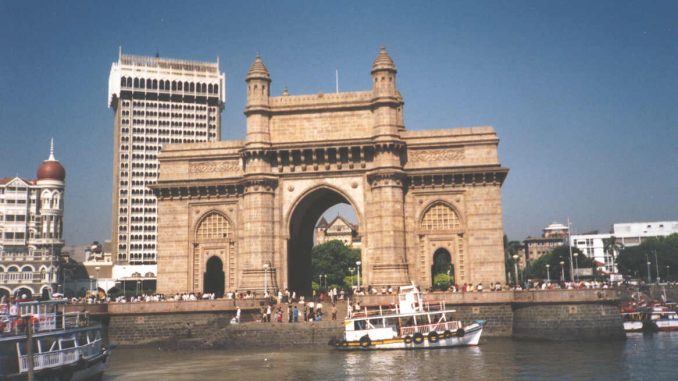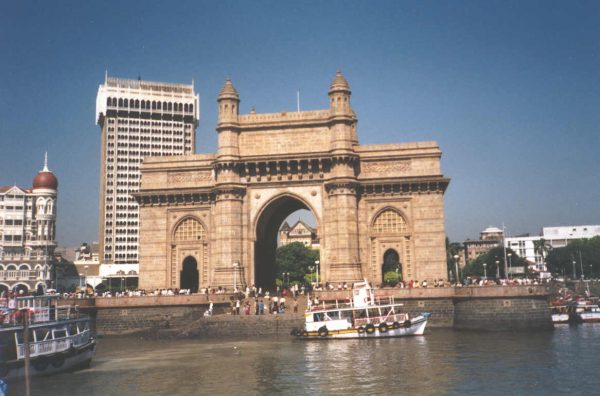 While many people begin their journey through India in Mumbai, this city is the final leg of our trip. Making our way from the airport, it was clear that Mumbai was much different than the India we have seen so far. Crossing a large bridge toward the city it looked as if we were approaching Vancouver or some other such coastal cosmopolitan city. Large buildings, both commercial and residential, dot the horizon as far as the eye can see. Oddly however, interspersed among the affluent areas and modern buildings are large slums consisting of flimsy-looking makeshift shelters that are constructed of scrap materials and mud. Many look to be about 5 feet square, and likely house anywhere from 2 – 5 people each. Some of these slums house literally a hundred thousand people, and it is estimated that up to half of Mumbai's 20 million inhabitants live in the slums. Mumbai is somewhat analogous to our trip, in that there is an extreme contrast of wealth and affluence set against a backdrop of abject poverty.
We arrived to our hotel, the landmark Taj Mahal, which is quite impressive from the outside and located right across from the Gateway of India. It is crawling with security at every entrance as a result of the terrorist attack here a few years ago. It is similar in many ways to most of the CP/Fairmont hotels in that it is grand and stately in the common areas, but the rooms are somewhat dingy, shoddy and neglected over the years. We overheard a staff member explaining to a guest in the elevator that they had planned to renovate the rooms, but that plan was sidetracked by the "unfortunate episode in 2008". James, of course, resisted blurting out, "Oh, you mean the bloody massacre where guests were brutally slaughtered?"
We do however have a fabulous view from our room of the Gateway of India and the Arabian Sea (unfortunately it's somewhat occluded by wire mesh put in place to keep the pigeons of our deck). We wasted no time getting out to explore the city and started our exploration on the rooftop terrace at the Intercontinental on Marine Drive, and watched the sun set over the Arabian Sea and the city while enjoying an icy cold beverage – fabulous! We then had a very touristic dinner at a popular restaurant called Cafe Leopold which is right by our hotel – this place has become very popular with tourists and locals alike as it is prominently referred to in the book Shantaram (which Simon and I are both currently reading). It's a bit of a dive, and essentially serves fast food (both Indian and Western), but it was decent, cheap and kind of fun to experience.
Interestingly, while James has been quite enjoying the metropolitan vibe of Mumbai (he even declared that he could live here), Simon is less enthused. James finds it exciting, fast-paced and full of life – but Simon feels that it is in many ways just another big city that lacks the same charm we have found in other parts of India we've visited, including Delhi (that being said, with some very unique and interesting aspects). There is no doubt about it; the city is huge and metropolitan, and much more "western" in its way of life than the other parts of India we've visited. This city certainly doesn't seek approval from anyone . . . it's the kind of place that could chew you up and spit you out if you refused to learn to live here.
Our guide for the day was rather disappointing, and unlike all of our other guides he seemed completely disinterested in showing us what Mumbai had to offer. Mumbai is more the kind of city you experience rather than "sight see" in, and he clearly wasn't up for the task. The most interesting things he showed us were; the largest open air laundry in the world (which is really quite something to see – a mostly illiterate workforce washes millions of pieces of laundry by hand each day, and using a special tag and colour sorting system, nothing goes astray and it is apparently incredibly reliable and quick), and a very brief tour of one of the slums which just left us wanting to see more. He showed us most of the major monuments, mostly from the comfort of the car, and dropped us back at the hotel by 13:00. We were happy to be rid of him and decided to spend the rest of the day exploring on our own. First thing on the agenda was lunch, and we found a fabulous restaurant with the help of our Frommer's guide, where James had * THE BEST * Indian food he has had since arriving in India. We then walked through the buzzing streets and markets of Mumbai and to get a feel for the vibe of the city. One odd thing we noticed is that there is a "Xerox" store every ten feet with circa 1980's style photocopy machines – we are both left wondering where this demand for photocopying comes from in such a modern city.
One other really unique phenomenon that exists here is the lunch delivery men. They pick up lunches from an office worker's home in the morning and deliver it to their office every day for the lunch hour, like clockwork. This service is used by millions of people, and costs very little (~$10/month). Over 40,000 illiterate workers perform the service, and apparently NEVER mix up or misplace a lunch using a unique colour and number coded system with various symbols/dots on the lids of plain metal canisters (we will try to get a photo to attach tomorrow). Now why, Simon wondered, would someone not just take their own lunch with them? Our guide explained to us as follows: It is very expensive to live in the city, so most workers live in suburbs 40+ km outside of central Mumbai. They have long commutes, so must leave shortly before 07:00 to get to work. As such, their wives would have to wake up at 4:00 AM to prepare their meals, and this is not feasible (our guide told us they must have hot home-cooked meals because if they only ate sandwiches, they would die .. and apparently eating out is not an option). So the wives get up at 7:00, cook huge meals that are ready by 10:00, and that is where these guys come in. Pretty nifty!
Our travel plans, which had us leaving around noon tomorrow have been thwarted with British Airways strike and we are now not leaving till about 03:00 on the 28th, so that has given us an extra day in Mumbai. We are using that time tomorrow to go on a slum tour. It sounds kind of awful, but it's run by a company that uses the proceeds from the tour to operate a kindergarten in the slum and give back to the community. Our guidebook described it as the most riveting tour they've ever had anywhere in the world, so we are really looking forward to it. Afterwards, we will return to our hotel to prepare for the long journey home which routes us through London, Chicago, and finally to Calgary – ugh! We've had an amazing time in India, and would love to return someday, but we are also looking forward to finally being home.