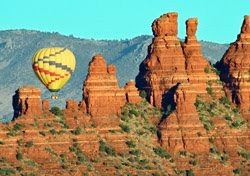 The French newspaper Le Monde and the travel magazine Ulysse have teamed up to provide a weekly newsletter highlighting various world destinations of interest to their readers. This week's email pointed out a number of places I would place on my two lists: place I've already visited and places I intend on visiting.
Sedona
They label this as the capital of New Age and having been there twice, I can say the town is certainly of a unique age and as new as any of the old rock formations surrounding the area. The town of Sedona is picturesque with a feel of being a long way from what we would call civilisation.
Google Images of Sedona, Arizona
One remarkable experience I had there is written up in my blog Sedona: Hot Air Ballooning. Now that was an experience! I highly recommend everybody try this and in my blog, I give links to places around Toronto where you can sign up and fly… er, float. No need to go all the way to Sedona.
Alice Springs
This is the second largest town in the Northern Territory of Australia. While I have never been there, the name Alice Springs caught my eye as I know it. Why? This will make you chuckle; it is the name of one of the places in the show Priscilla Queen of the Dessert. I have never been to Australia but have certainly heard a few times that outsiders always make the mistake of underestimating distances forgetting that Australia is officially a continent. Yes, it's not just a country; it's a "continent" and a big one at that.
Google Maps puts Alice Springs on the map and as you can see, the town is just about in the middle of Australia, way the heck out in the middle of nowhere; the centre of the Outback.
Google Images of Alice Springs, Australia
A couple of comparisons to put things in perspective. Canada has an area of 9.9 million square kilometres (3.8 million square miles) while Australia has 7.6 million square kilometres (2.9 million square miles). This image compares Australia to the United States. This image compares Australia to Europe. This page has a good comparison of Australia to other countries. Geographically, it is big with a population of almost 20 million. Economically speaking, Australia has a GDP of almost $850 billion while Canada has a GDP of $1.3 trillion. However, I note that the per capita income in Australia is reported to be higher than in Canada: $42,000 vs. $39,000. – Note that there are differences in comparing per capita depending on the source: IMF, World Bank or CIA Factbook.
Other places
This week's newsletter also takes a look at Brasília, the capital of Brazil and Füssen, a town in Bavaria, Germany.
Google images of Brasília
Final Word
The world is a big place with a lot of places to visit. Travel can be quite expensive but I hope to add a few more notches to my belt in my developing list of places I've personally seen.
I got a copy of the celebrated 2003 book 1,000 places to visit before you die and noted that while I had visited some of the places listed, I had barely put a dent in the total list. Ha! Thank gawd for the Internet. I may not get to a lot of places but at least I can see some pictures of what I'm missing.
Let's all check out the official site of the book and get some ideas of what we should be doing next!
Click HERE to read more from William Belle.