Today: an Indigenous partnerships coordinator working in government who makes $95,469 per year and spends some of her money this week on perfume.
Occupation: Indigenous Partnerships Coordinator
Industry: Government
Age: 34
Location: Southern Alberta
Salary: $95,469
Paycheque Amount (2x/month): $2,344.79
Gender Identity: Woman
Monthly Expenses
Mortgage: $1,130 (I own a duplex, but it's currently on the market, and I'm staying with my boyfriend and his four male roommates. He's not charging me rent.)
Property Tax: $261
Home & Car Insurance: $199
Electricity & Gas: $175 (average)
Water & Waste Collection: $60
Student Loans: $300
Car Loan: $365
Visa: $300 (Give or take. I never pay off the balance, though.)
Pension: $890 ($445 is automatically deducted from each cheque and matched by my employer.)
Union Dues: $90.96 ($45.48 is deducted from each cheque)
Medical Benefits: $140.98 (I just upgraded to extended coverage and my portion is $70.49 per cheque. My employer pays the other half.)
Life Insurance: $35
YMCA Membership: $57.75
Cable, Internet & Netflix: $147.60
Phone: $115.96
Spotify: $10
Day One
6:30 a.m. — I've been on vacation for most of the previous month, so it feels like back to school time for me, too! I recently moved in with my boyfriend, D., while my house is for sale. I got tired of having to rush home at lunch and tidy up for showings. It can be difficult to live in a house and show it to potential buyers at the same time.
7:30 a.m. — D. surprises me with a Starbucks Americano and daisies to take to work for my desk, and I grab a Good To Go Keto Bar on my way out. I catch up on work emails and break to look at Sephora's website for a few minutes. I need to spend $2 more to get free shipping, so I leave my purchase in my cart. I'll come back to it later.
12 p.m. — I didn't pack a lunch so I drive home and have ham and a cheese stick. Then I make "cereal" with chia seeds, flax meal, psyllium husk, strawberries, blueberries, cinnamon, and heavy cream. D. and I have been eating keto since January, and it's working really well for both of us.
5 p.m. — D. is frantically working in the kitchen when I get home from work. He's made chicken tikka masala and saffron cauliflower rice.
6:30 p.m. — We watch Stranger Things, and D. requests a keto dessert that I make with whipping cream, cream cheese, coco powder, almond extract, and coconut. As I get it into bowls, he knocks one on to the floor. Luckily, I still have half a block of cream cheese so I whip it with peanut butter.
7:30 p.m. — Most of my stuff is in a storage unit right now, so I can't find nail polish remover and living with five males means nobody has any to lend me. I run to Shoppers Drug Mart to buy some and peruse the sales. I pick up nail polish remover, two bottles of body wash (because it's my favourite and on sale), three mud masks (it's a three-for-$5 deal, and D. did one with me recently and loved it), charcoal nose strips (not something I would normally buy, but on sale), and a cologne sampler pack for D.'s birthday next week. They're great gifts for someone who doesn't normally wear a fragrance, because you get 10 samples, and the box has a coupon for a full-size of your favourite. I spend enough to qualify for a free gift, so I choose a new eyeshadow palette. $125.13
Daily Total: $125.13
Day Two
6:30 a.m. — D. is already gone to do his paper route, so I have the whole bed to myself. After I get dressed and do my hair, D. is back and he's cooking breakfast: eggs, homemade sausage patties, grilled green peppers, and cherry tomatoes. He puts some in a container for me to take to work, along with a to-go cup of coffee mixed with collagen powder. We're out of heavy cream, and I can't bring myself to drink black coffee, so I pick up two cartons on sale for $2.99 each. I actually arrive to work on time, which is unusual for me. I eat my breakfast quickly, so it's still warm.
$6.26
12 p.m. — D. texts to see if I'm coming home for lunch. He works at 1 p.m., so I run home to catch him before he leaves. We are only a year into our relationship and still so mushy and in love.
5 p.m. — My house is sitting empty and still for sale, listed in the $200,000s (real estate isn't crazy-expensive here). I stop by because have food in the fridge and freezer and want to bring it over to D.'s. I find a bag of shrimp and text him to pick up Caesar salad stuff to go with it. I also have some plant-based Unbuns that I want to try making garlic bread with.
7 p.m. — I meet a friend for a walk in the park but leave after an hour because the park gets sketchy after dark.
10:30 p.m. — At home, I play on my phone before I start falling asleep on the couch. D. has been in bed for two hours, so I join him.
Daily Total: $6.26
Day Three
5 a.m. — D. is awake and wants to cuddle before he delivers papers, which wakes me up. I go back to sleep for an hour when he leaves at 6 a.m.
7 a.m. — I do my morning routine, and D. has made me coffee again. He is prepping marinade for tonight's pork tenderloin. I'm travelling to a couple First Nations for work today and won't be home for lunch, so I make my "cereal" and D. grabs me almonds, cheese, and turkey pepperoni to bring to work.
2:30 p.m. — Despite bringing snacks, I'm still hungry so I get a lettuce-wrapped double Teen Burger at the A&W drive thru. $8.49
5 p.m. — I have a therapy appointment with my psychologist after work. I don't have to pay for my one-hour session because I recently increased my benefits. I feel so grateful that I'm able to afford these private services, because I know so many people that can't, and the caseloads of public mental health therapists are so huge. We currently have an opioid crisis here, and there are not enough mental health and addiction supports. ($150 expensed)
6 p.m. — I stop at the grocery store for broccoli, Brussels sprouts, a cucumber, blueberries, and an avocado ($7.81). When I get home, D. has already made a salad and he's barbecuing the pork. I make the broccoli. After dinner, we start the third season of Stranger Things, then he goes to bed, while I stay up reading Tin Man by Sarah Winman. $7.81
Daily Total: $16.30
Day Four
5 a.m. — Same morning routine as yesterday: cuddle, doze for an hour, get up.
7a.m. – I make a small coffee but don't pack a breakfast, because it's pay day, and my work friend and I usually go out for a fancy coffee and breakfast.
10 a.m. — We walk over to a coffee shop, and I order the burrito without the wrap. They are used to me doing this by now, however, it always comes to me in slightly different variations. Today is two poached eggs, cheese, avocado, bacon, a small cup of salsa, sour cream, and peppadew peppers. I also get an Americano with sugar-free vanilla syrup and heavy cream on the side. $16.61
12 p.m. — I'm not hungry for lunch, but I go home for the break anyway and watch Schitt's Creek while playing Word Chums and Two Dots on my phone and eating a couple spoonfuls of peanut butter. I grab Cheese Whisps, a Tangerine and Wild Strawberry S.Pellegrino Essenza, and SmartSweets (sugar-free gummies) for a Friday pick-me-up. I know SmartSweets are controversial in the keto community, but I'm not super-strict so whatever.
5 p.m. — I get home from work and lay on my bed for an hour, trying to relax after a week that felt like it took forever.
6 p.m. — I pick up D. from work, because we're going to look at a house with our realtor. D. and I both own our own homes, but we want one that feels like ours together and has a few upgrades, like a garage, air conditioning, a big closet for me, and enough space for D.'s thousand-plus books. Our budget is around $300,000. We're keeping his house as a revenue property because he already rents out the rooms. I had more equity in my house, so we decided to sell it and use that equity for the down payment on the new place, which will be in my name. I earn a fair amount more than D. does, so I don't expect him to contribute 50%. We've discussed other, non-financial ways he can contribute to the home.
6:30 p.m. — There's a lot that we like about the house, but there is still a ton of work to do on it, so we decide it's not for us.
7:30 p.m. — D. is doing an extended fast, which he usually does once a month, so I make leftovers for dinner: pork tenderloin, salad, and cauliflower rice. He lays in bed reading while I cook, eat, and clean up. I join him in bed and watch The House with Will Ferrell and Amy Poehler on my laptop with headphones in while he sleeps. He still needs to wake up early on Saturday mornings, and I don't have to work on weekends.
Daily Total: $16.61
Day Five
5 a.m. — Same as usual, D. is awake and wants to cuddle, then I go back to sleep.
8 a.m. — We're going to the Farmer's Market because we're making pickles with D.'s mom on Sunday, and we need to get dill, garlic, and cucumbers. On the way, I get a coffee from McDonald's and add my own cream, collagen powder, and stevia. I grab his mom an iced coffee with cream, too, and pick her up. $3.18
9 a.m. — D.'s mom pays for all of the pickling supplies, then I drop her off, take D. to work, and get gas at Costco because it's the cheapest place in the city. $40.52
10:30 a.m. — While I'm there, I get groceries because I'm hosting D.'s family birthday dinner later this week: steaks, strawberries, celery, salad, Brussels sprouts, cauliflower, heavy cream, pesto, turkey sausages, and a shirt as part of D.'s birthday present ($128.48). I'm almost ready to pay when I notice the scent I wear is on sale, Versace Bright Crystal ($73.49). I quickly Google it to see how much it retails for at Sephora, and it's about $100. The deal is too good to pass up! $201.97
11 a.m. — I unload the groceries and season up one of the steaks for tonight. Then I make a breakfast of scrambled eggs with pesto, four cherry tomatoes, turkey breakfast sausages, and an avocado. After breakfast, I finish Tin Man.
1 p.m. — My brother dropped my lawn mower off at my house, so I can cut the lawn — it desperately needs it. After I'm done, I reward myself with an episode of Big Brother Canada that I have recorded. All the furniture has been moved out, so I sit on the floor and watch.
3 p.m. — I notice an open house not too far away, so I check it out. I quite like it and text D. to say we should go back together. Another open house is happening on the other side of the city, near my friend's place, so I pick her up and we see it together. It's small and expensive and not for me. Our city's Parade of Homes is on this weekend, so we also visit four show homes that are way out of my price range, but they are fun to check out for decorating ideas.
5 p.m. — D. and I go to the YMCA, which has a fantastic pool that includes wave and lap pools, a lazy river, a wave rider, a hot tub, and a steam room. There's also a gym and fitness classes, but so far we have only used the pool.
7 p.m. — Time to grill my steak. I've been looking forward to this! I cook up Brussels sprouts to go with it and the last of the cauliflower rice.
8 p.m. — We keep a list of shows and movies that each of us loves but that the other hasn't seen, and tonight we go for Trainwreck, which is my pick that D. hasn't seen. It's a bit of a mindless film to watch.
Daily Total: $245.67
Day Six
7:30 a.m. — Sundays are the only day that D. doesn't have to get up early to deliver papers, so we stay in bed being lazy, then I make a big Sunday morning breakfast. D. is still fasting, so he reads while I have turkey sausages, a small piece of leftover steak, hard-boiled eggs, cheese, peanut butter, and celery. After I clean up, we drive to D.'s mom's house for the pickling festivities. I feel like I might be fighting off a cold, so we stop at the pharmacy for Sudafed, a bottle of water, and a sugar-free Powerade. $25.99
12 p.m. — At D.'s mom's, we realize we don't have enough jars, so we head out to buy more. Then we aren't sure we have enough cucumbers, so we get more of those, too. D. buys the jars, and I pay for the cukes at a vegetable shed that has an honour system. $8
10 p.m. — The pickling process lasts all day. D.'s mom makes us a carton of bone broth because D. isn't eating, and I'm not feeling hungry at all. I'm totally exhausted.
Daily Total: $33.99
Day Seven
5 a.m. — Same as usual: cuddle, go back to sleep.
7 a.m. — I shower, dress, do my hair and make up. I want to make my chia pudding but find that my almond milk froze in the fridge, so I make my breakfast just using cream.
12 p.m. — It's drizzling rain and Monday, so the whole office is in a low mood. When I get home for lunch, I'm happy to see that D.'s car is in the driveway. He's made me a huge salad and poured me a passionfruit LaCroix. He's still fasting, so it's so selfless that he did this for me. This salad has everything: hard-boiled eggs, tomatoes from his mom's garden, jalapeño cheese, avocado, celery, ham, red peppers, pepperoni stick, lettuce, and homemade dressing. Salad always seems to taste better when someone else makes it. I am so grateful for this man.
5 p.m. — I pick up D. and meet our realtor to see the place I viewed at the open house. I still like it, but I'm hesitant to make an offer until my house sells because I keep getting disappointed with deals falling through.
6 p.m. — I make D. come with me to my waxing appointment because I don't have time to drop him off first. I go regularly to get my eyebrows threaded ($18.11 with tip) and a Brazilian wax ($60.38 with tip). $78.49
7 p.m. — I throw together a salad, cheese, sausage, olives, and celery with peanut butter. D. and I watch Stranger Things, and he goes to bed. I play a few games on my phone until one of our roommates comes home and wants to chat with me about his dating life.
10:30 p.m. — I finally tell him that I need to get to bed.
Daily Total: $78.49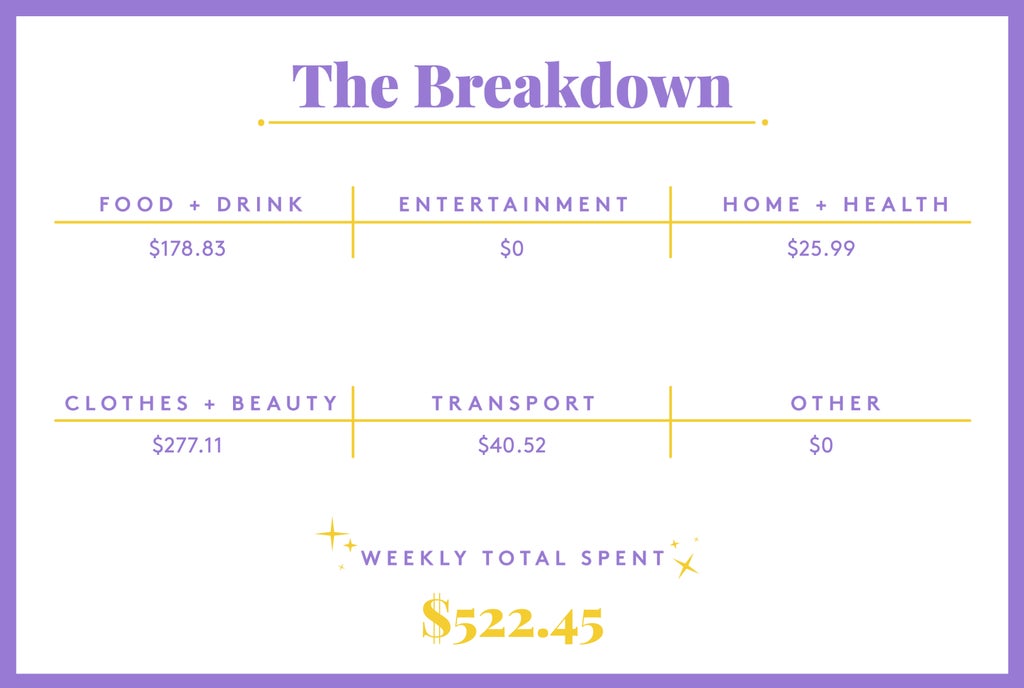 Click HERE to read more from Refinery29



Loading ...