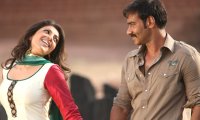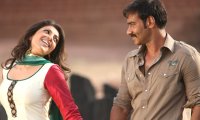 EXPECTATIONS One doesn't quite know for sure what to look forward to in the soundtrack of Singham. After all this is a hardcore action film and though love story forms a part of it, this Rohit Shetty affair hasn't quite been spoken for its music. With relatively new composer duo of Ajay-Atul coming together, Swanand Kirkire as the lyricist and only three songs filling up the album, one plays on Singham and keenly listens to what follows.
MUSIC The way 'shlokas' begin the opening track 'Singham', you are instantly reminded of the chants in Sunny Deol's Ghatak as well as the kind of flavour which was last evidenced in Ajay's own Omkara. Soon Sukhwinder Singh comes to the fore and turns ferocious as per the theme of the film as well as the need of the situation. There is an out and out Indian flavour to this song which basically details the character of Ajay, a brave-heart cop who is all there for people in his territory. Expect the sound of 'Singham' to play right through the duration of the film as it has the kind of old fashioned 'masala' flavour to it which goes with the action-drama genre here. There is a 'remix version' included as well and it further adds on to the high energy of this five minute long track. From a 'high on pace' title track, the album moves on to a much softer 'Saathiyaa' which starts off with the sound of a flute and immediately sets the tone for a melodic outing. An easy on ears track which boasts of the kind of music that has never left quintessential Bollywood romantic affairs and would never disappear in many more decades to come, 'Saathiyaa' is special due to Shreyas Ghosal's sweet as honey vocals that come to their own all over again. She is clearly in the Alka Yagnik mode here and with good support from Ajay (who just comes for the line 'Badmaash Dil' throughout the song but ends up making a good impression), Shreyas makes one firmly believe that 'Saathiyaa' would have been an ideal song for an out and out romantic outing. This one comes in a 'remix version' as well but one would rather want to put the original in a repeat mode and hear it for hours at stretch.
The Indian flavour of Singham continues with 'Maula Maula', yet another love song which has Kunal Ganjawala singing in a mode different from his usual self. In addition there is Richa Sharma coming behind the mike who brings in a contrasting flavour to 'Maula Maula' that makes it a pleasant hearing. There is a slight 'sufi' touch to the song which predominantly stays in the Bollywood zone and ensures that it won't really be too much of a distraction in the film despite belonging to an out and out love romantic zone. It isn't the next chartbuster in the making but coupled with the 'remix version', it turns out to be a reasonably nice hear.
OVERALL Singham turns out to be a fine album though one does feel that there could have been much more than just three songs here. While 'Saathiyaa' is the pick of the lot and has the potential to play on beyond the theatrical run of the film as well, title song 'Singham' brings in the right mood despite its setting. However given the fact that the film is not quite a musical and the focus would be primarily on pushing its action flavour, the album would find it tough to make much of a mark commercially. Ajay-Atul would benefit though from Singham as despite the fact that film allowed them space for only three songs, they have done well to showcase that they have it in them to deliver. Now one looks forward to what they have to present when they get an opportunity to compose for an out and out musical.
OUR PICK(S) Saathiyaa