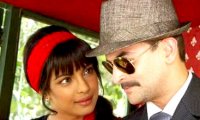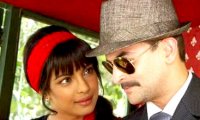 EXPECTATIONS There are very good expectations from the music of 7 Khoon Maaf and there are two major factors behind that – Vishal Bhardwaj and Gulzar. Together they are a lethal force, something they have proven time and again in big (Kaminey) as well as small (Ishqiya) films. While Kaminey was an instant winner from the word 'go', Ishqiya grew with word of mouth and continued appreciation, especially once the film turned into a success. With Priyanka Chopra heading the star cast, one expects a commercially viable soundtrack along with something unusual from the team of 7 Khoon Maaf as well.
MUSIC The moment Usha Uthup goes 'Darling' in this namesake opening number, you know that this would be one popular number in the offing here. A fun celebration track with a naughty appeal to it, this track based on Russian folk song 'Kalinka' is instantly catchy and makes one tap feet along with it. The song also reminds one of lesser heard song 'Pyaar Mein Sau Uljhane Hai' (from Kyun Ho Gaya Na) which had released seven years ago. No, 'Darling' is not the kind of song that makes one head for that dance floor in the discotheque. However, when seen on screen it can well be expected to be a live wire. The song arrives again as 'Doosri Darling' and this time around Clinton Cerejo and Francois Castellino join Usha Uthup and Rekha Bhardwaj. The Russian folk flavour is kept intact this time around as well but the song's repetition ensures that one can't get it off once the album is through and finds a repeat hearing all over again. There is a sound of light rain in the background and a subtle build up is maintained for more than half a minute before Vishal Bhardwaj himself comes behind the mike for 'Bekaraan'. Just like the title song of Kaminey and U Me Aur Hum, Vishal reserves the best for himself when it comes to rendering a track and he does that amazingly well again in 'Bekaraan'. A heartfelt love song with a strong poetic appeal, it has the kind of lyrics that one can expect only from the likes of Gulzar and Javed Sheikh. A smooth number that requires just one listening to be caught hold of, it gets etched in one's memory for long. There is a complete twist in the tale with a rock number following soon after 'Bekaraan'. KK sings 'O' Mama' which starts off slowly only to pick pace as it proceeds further. The start is haunting though one wonders how the song will shape up eventually. In the meanwhile as one listens to the lyrics carefully, one realises that there is a dark undertone of love here which only hints of turning dangerous nonce the momentum picks up in 'O' Mama'. Along with Clinton Cerejo's rap (written by Ajinkya Iyer), KK gets into a different zone from his romantic ballads and is totally convincing with a ferocious 'O' Mama'. Later he gets soft for the acoustic version of 'O' Mama' where he goes solo and is aided by just a guitar in the background. Surprisingly, immediately after 'O' Mama' comes 'Awaara' which is the kind of track that one has heard for years now and doesn't offer anything novel at all. In fact the tune and pace of this sad track is such that it is hard to believe the man behind the helm of affairs as Vishal Bhardwaj who is known for his originality. Sung by Master Saleem, 'Awaara' has a philosophical undertone to it and one wonders if presence of this song will only slow down the pace of the film. Thankfully, Vishal Bhardwaj is back in his elements all over again with 'Tere Liye' with a slow and soft beginning that gets listener in the kind of zone that they wanted to be in the first place while picking up the soundtrack of 7 Khoon Maaf. This is yet another track which has a definite lyrics quality to it and the man entrusted for the job, Suresh Wadkar, as always turns out to be reliable. A song that lasts almost six minutes, 'Tere Liye' maintains a constant pace right through it's duration and requires a continuous listening in the dead of the night with just a candle light around. A good romantic number.
Well, to wake up from the dead of the night there is 'Dil Dil Hai' which has the man for the job, rock-star Suraj Jagan, summoned behind the mike. This is the kind of track that would have been readily picked up by the young brigade comprising of Shahid Kapoor, Ranbir Kapoor, Imran Khan or Neil Nitin Mukesh. Now with Neil in 7 Khoon Maaf, one wonders if he is one of the '7 lucky husbands' to have actually bagged this one up. A hardcore rock track which reminds of 'Zahreeley' from Rock On, 'Dil Dil Hai' literally attacks out of the soundtrack and turns out to be entertaining nevertheless. The album ends on a surprising note though with a devotional track 'Yesu' which has a minute long build up to it before Rekha Bhardwaj comes behind the mike. A number where the protagonist is complaining to God about her voice not being heard, 'Yesu' is strictly situational and even musically it is just about average.
OVERALL 7 Khoon Maaf is a good album with a couple of definite hits ('Darling', 'Bekaraan'), couple of skip worthy ones ('Awaara', 'Yesu') and the remaining ('Dil Dil Hai', 'Tere Liye', 'O Mama') turning out to be the kind that have the potential to grow if the film succeeds at the box office. Since 7 Khoon Maaf is not a routine Bollywood affair, it can't be expecting a quick pick at the stands from Day One. However, on the positive side the reputation which precedes Vishal Bhardwaj and Gulzar will ensure that there is good visibility at the least for the album. This would ensure that the soundtrack too finds decent success coming it's way.
OUR PICK(S) Darling, Bekaraan, Dil Dil Hai, Tere Liye