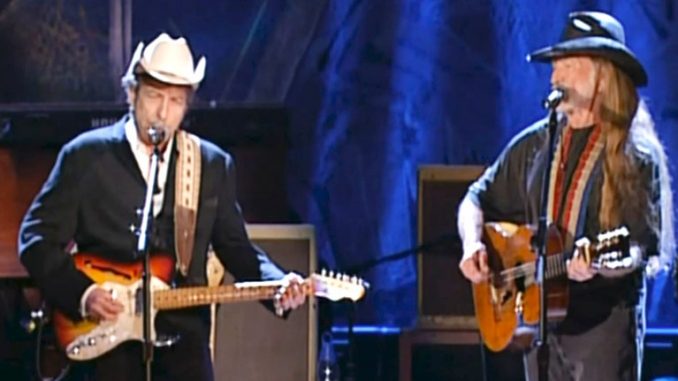 By Stephen Pate – In 1978 Willie Nelson recorded Stardust, the 1927 Hoagy Carmichael perennial favorite, on an album of the same name. It might have seemed odd at fist for a country singer to record pop standards but the public and critics loved the album.
This month Bob Dylan is releasing Triplicate a 3-CD collection of pop standards including the song Stardust.
This year Dylan and Willie Nelson duked it out over Best Traditional Pop Vocal Album at the Grammy's. Bob Dylan got the nod for Fallen Angels but Willie Nelson won the Grammy for the clearly superior album Summertime: Willie Nelson Sings Gershwin.
Despite his outlaw image, Willie Nelson has always been a smooth ballad singer, albeit in the country genre. His early songs like Crazy and Funny How Time Slips Away are classics.
Bob Dylan started as a folk singer, a protest song rebel and kept that image going for most of his career. He did slip into the country genre during the late 60's and early 70's but he only showed his interest in pop ballads to his closest confidants.
Guitarist Ira Ingber (Mothers of Invention) recalled in UnCut Magazine how Dylan insisted he teach him the chords to Ray Charles "Come Rain Or Shine" in late 1984.
He came to me one day and he told me he wanted to learn to play Ray Charles' 'Come Rain Or Come Shine' on guitar. Because it's arranged for an orchestra, not a guitar, there are some very complex chords. 'I said, "Wouldn't it be easier if we just did it and you could sing it and not bother playing?" He was insistent – so I did an arrangement and I don't even know if we got as far as trying to play it, because the chords involved were a little beyond his comfort level on the guitar, so the whole thing kind of went away.
Not only are pop ballads usually hard to play, they are devilishly hard to sing when your vocal style is as eccentric as Bob Dylan. It takes vocal training to hold the notes as written and Dylan's career has been made with unusual phrasing, to say the least.
Here's the Willie Nelson 1978 recording of Stardust, on the album of the same name which is considered one of the greatest records of all time, staying on the charts for 10 years and selling more than 5 million copies.
Here's the contender, Bob Dylan from Triplicate.
Who wins in your mind?
In any event, Bob Dylan is on a 3-year journey to conquer the Great American Songbook of pop ballads written from the 1920's to the 1950's.
Willie Nelson and Bob Dylan have been friends for decades so I don't think they take this seriously.
Click HERE to read more.