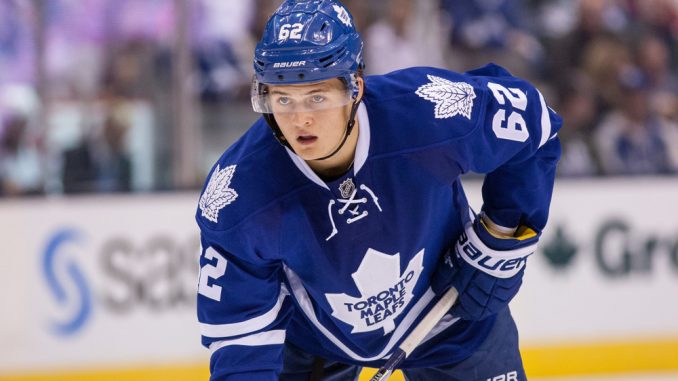 Toronto Maple Leafs beat Carolina Hurricanes 3-2 in OT. Here is game summary for the game played on Saturday, March 11, 2017
| | | | | | |
| --- | --- | --- | --- | --- | --- |
| | 1 | 2 | 3 | OT | FINAL |
| TORONTO | 1 | 1 | 0 | 1 | 3 |
| CAROLINA | 1 | 1 | 0 | 0 | 2 |
GAME SUMMARY | EVENT SUMMARY | FACEOFF SUMMARY

ON THE SCORESHEET
Morgan Rielly scored the game-winning goal for Toronto at 2:13 of overtime. The overtime goal is the first game-winning goal of Rielly's NHL career.
Mitch Marner put the Maple Leafs on the board at 9:52 of the first period. Marner has points (2-4-6) in five consecutive games.
James van Riemsdyk had the secondary assist on Marner's first period goal and later scored his 21st goal of the season at 7:37 of the second period. With tonight's two-point performance, van Riemsdyk has passed the 50-point mark (51) for the third time in his career (61 – 2013-14, 56 – 2014-15).
Tyler Bozak
registered his 30
th
assist of the season on Marner's first period goal. With 30 assists, Bozak has tied his single-season career-high for assists in a season set in 2013-14.
William Nylander had the lone assist on Rielly's overtime goal. Nylander has points (1-3-4) in four consecutive games.
Frederik Andersen stopped 36 shots in the win. The Maple Leafs are 14-3-4 in games when Andersen makes 30-39 saves.
SHOTS FIRED
The Maple Leafs were outshot by the Hurricanes by a 38-26 margin in all situations by a 33-21 margin at 5-on-5.
Carolina had a 74-50 lead in shot attempts in all situations and a 64-42 lead in shot attempts at 5-on-5.
James van Riemsdyk led the Maple Leafs with five shots on goal and seven shot attempts.
ROAD WARRIORS
The Maple Leafs are 14-12-8 on the road this season.
Toronto's all-time record is 43-55-11-7 in 116 games against the Hurricanes franchise and 22-26-5-5 in games played on the road.
Toronto is 22-12-7 against the Eastern Conference this season and 9-6-4 against the Metropolitan Division.
The Maple Leafs return to action at Florida on March 14.
MAPLE LEAFS LEADERS
| | |
| --- | --- |
| Faceoff Wins | 10 (Bozak) |
| Faceoff Win Percentage | 62% (Matthews) |
| Hits | 5 (Soshnikov) |
| Blocked Shots | 6 (Polak) |
| Takeaways | 6 (Matthews) |
| TOI | 22:59 (Polak) |
| Power Play TOI | 2:12 (Zaitsev) |
| Shorthanded TOI | 3:00 (Polak) |
| Shifts | 33 (Rielly, Zaitsev) |
| 5-on-5 Shot Attempt Percentage | 57.7% (Marincin – 15 for, 11 against) |
RECORD WHEN…
The Maple Leafs were 1-for-2 on the penalty kill tonight and 0-for-2 on the power play. Toronto is 13-10-6 when not scoring a power play goal this season and 9-9-8 when allowing one power play goal.
Toronto is 7-16-6 when their opponent scores first.
The Maple Leafs are 10-7-3 when tied through a period and 4-4-3 when tied through two periods.
Toronto has a 19-10-7 record when outshot by their opponent.
OF NOTE…
Tyler Bozak
won 86 percent (6 won, 1 lost) of his faceoffs in the offensive zone, including a 3-for-3 performance on the draw against Carolina's Jordan Staal.
Nazem Kadri and Leo Komarov started all of their shifts at even-strength in the defensive and neutral zones.
Auston Matthews was 5-for-7 in the faceoff circle in the Carolina zone. Matthews was 4-for-4 when matched up against Carolina centres Elias Lindholm and Jay McClement in the offensive zone.
Roman Polak played 9:15 in the third period of tonight's game, 1:34 of which was on the penalty kill.
UPCOMING GAMES:
Tuesday, March 14 at Florida Panthers, 7:30 p.m. (TSN 4, FAN 590)
Thursday, March 16 at Tampa Bay Lightning, 7:30 p.m. (Sportsnet Ontario, TSN 1050)
Saturday, March 18 vs. Chicago Blackhawks, 7:00 p.m. (Hockey Night in Canada, FAN 590)
Monday, March 20 vs. Boston Bruins, 7:30 p.m. (TSN 4, TSN 1050)
Wednesday, March 22 at Columbus Blue Jackets, 7:00 p.m. (Sportsnet, FAN 590)
POSTGAME QUOTES:
HEAD COACH MIKE BABCOCK
On tonight's game:
I thought early we were doing alright. In the second period, halfway through, we stopped shooting the puck and attacking their net and gave up some rush opportunities. Then I thought in the third it was one of those games where it was a bit of a grind and in the end, we stuck with it and [Rielly] got a big goal for us. It's good for Ries and good for our team.
On the performance of the Bozak line:
They were all good. Bozie was really good. That was our best line, I thought, for sure. Mitch Marner was skating. James [van Riemsdyk] was skating and he was really effective. Bozie went through a bit of a time here where he hasn't been feeling very good and obviously, he's feeling better now. It's important that those guys are going for us.
On Marner's play as "infectious":
I thought Mitch hadn't been quite as good and I thought tonight was his best game since he's been injured. He really had jump and pushed the pace of the game and had the puck a lot and had some excitement about him. I thought he was solid.
FREDERIK ANDERSEN (36 SAVES, WIN)
On winning three in a row:
It feels good. Obviously, we need the points so it's always nice to get away with the win. We battled back a couple of times and tied it up. It was a good play by Morgan in overtime.
On the key to winning tonight:
Just stick with it. I think we did a good job of that and I think when they score twice and get up, it's good for us to show that we can come back both times.
On the first Carolina goal changing direction off Rielly:
I wouldn't say it changed direction. I don't know if it touched him but he definitely got it off quick and it caught me between two save selections. It was a good shot.
On Rielly making up for deflecting a goal past Andersen with the OT winner:
That's a good way to do it. It's one I have to have anyway so he shouldn't feel too bad. I'm glad I made him score a goal.
On if he prefers to face a lot of shots:
As long as we win I don't care. It's always fun to play and I enjoy every second of it.
MITCH MARNER (1 GOAL)
On the key to his line's success:
I think we're just playing the way we wanted to from the start – playing hard down low and getting into open ice for each other. That's helping out a lot.
On scoring his goal off a cycle play:
We just want to get the puck in and be hard on the cycle. I think tonight we did that as a line and we've been doing that in previous games. We've just got to keep doing that to be successful.
On the key to winning tonight:
Like I said, just playing our way. I think we all came in here and we played the way we wanted to from the start. That's important for our team. That's the team we need to be if we want to keep winning. It was obviously a little bit of a nail-biter at the end but it shows character to come back and win that one.
On the play of Bozak:
He's been great, especially on the draws. He's been a big help in the D-zone, O-zone, creating a lot of chances for our line and he has been a big part of this team.
On what Andersen does when he's at his best:
I think just poise and battling through guys in front. Playing the puck really well and being aware of the plays that are already happening before it happens. I think when he's doing that he's at his best.
MORGAN RIELLY (OVERTIME-WINNING GOAL)
On tonight's win:
A big win for us. We knew how important these games were going to be coming on to this road trip. To start off with a win is definitely a good feeling.
On his winning goal:
There was some luck there definitely on the shot. All in all, a good team effort. We're very happy to get the win and move on to Florida for another two big games.
On what he's trying to do with the puck in overtime:
With this overtime, you try to hang on to it as long as you can. You don't want to turn it over if you don't have to. It's just a matter of holding on to it and trying to find a teammate or a lane to shoot it. I got lucky and it happened to go in.
On Andersen's play:
Freddy has been outstanding. He has been great all year but this past month or two he has been our best player. I think he has really risen to the challenge and the more games we play, the more important they get. He just seems to get better and better. It's a great sign, he's a huge part of this team and I'm very happy for him that he's been playing well and he has been keeping us in there.
On Marner's performance:
Mitch was flying – that's nothing new, though. He's been playing great since he's come back from injury. He's got his legs going and you could tell tonight he was flying.
JAMES van RIEMSDYK (1 GOAL, 1 ASSIST)
On tonight's game:
We knew what kind of game it was going to be. When we play against them it's always tight-checking, not a lot of room out there. You've got to try to stay patient and you've got to stick with it. When you get your chances, you've got to try to capitalize on them. I thought we played a pretty good game in that regard too – we didn't really give up too much. It was a hard-fought game and a great play by Morgan there to get us the win.
On the cycle that led to Marner's goal:
I think all of three of us were touching the puck a few different times in there. We were moving around pretty good. When we're skating like that and reading off each other like that, it makes it tough for the other team.
On what makes his line click:
There's always a combination of all those things. You're working hard, you get some good bounces, you're reading off each other pretty well. I think the thing with our line, we're so adaptable and able to make smart plays with and without the puck. That's what gives us a lot of success. We can play different styles together.
On winning two games in Carolina in less than a month:
I think it just shows what kind of team we have and we can win in a lot of different ways, which is huge. You've got to be a versatile team to be a successful team. It was a good two points for us.
On if the win will earn the team less morning skates on game day:
At this time of year, it's critical to make sure you're well-rested and recovered. I think the coaching staff and the training staff is doing a good job of trying to find time to give us some more rest so that we're sharp and have that little extra jump in our step out there. I thought that was valuable for us tonight.