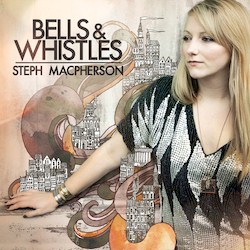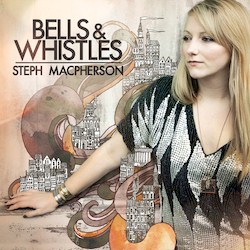 Victoria's folk-pop artist
Steph Macpherson
is ready to let the world hear her debut full-length album
Bells & Whistles
. The new album features 10 original songs about love, heartache, and life experiences. It will be released on
April 17, 2012
on Cordova Bay Records.
Bells & Whistles is already receiving critical acclaim and is quickly establishing Macpherson as one of Canada's up-and-coming singer-songwriters. Track-to-track she showcases her exceptionally strong pop-sensibility with songs like the first single 'Summer Salute', beautifully crafted heartbreaking lyrics on 'The Distance and East', and adds in a little dash of country flavor on 'Silver Platter'.
"I'm so excited to be releasing my first full-length album! So many people have already worked so hard on it, and put their hearts and minds behind it, and I can not wait to share it!" says Macpherson, who worked with producer and longtime collaborator Jason Cook.
In Canada the new release is available at regular outlets including: Amazon, HMV, Archambault, Maple Music and iTunes.
Big things are on the horizon for this stunning singer-songwriter and she is sure to touch your heart and soul with Bells & Whistles!
To coincide with the release Macpherson will be hitting the road this spring, bringing her charming live performance to cities across Canada. Check the TOUR PAGE for more info.