John Mellencamp rocked out Halifax two nights in a row while the TD Halifax Jazz Festival is the equivalent of classical music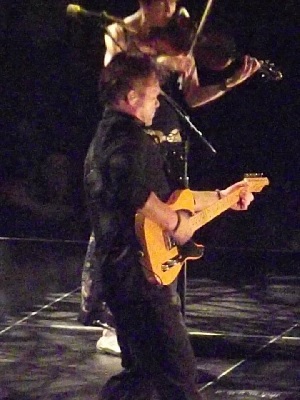 John (Cougar) Mellencamp rocked out for 3,500 energetic fans last night at the Dartmouth Sportsplex in Halifax.
The fans went wild as Mellencamp "let it rock, let it roll" in a moving and grooving 2 hours of American heartland rock.
Aging rockers, bikers and their chicks, middle-aged business people and their spouses, country fans and young people got the rock and roll religion one more time "let the Bible Belt come down and save my soul." (words by John Mellencamp)
Yeah!
Across the harbor, 1,000 people sat on their hands in the cool evening air, listening to people re-create music from the museum of jazz. They politely applauded every musician's break because the people next to them were clapping.
That audience would not be there without massive investments in public money since jazz has a tiny audience and no commercial value.
No offense meant to any musicians who make their living playing jazz but it has become the equivalent of classical music, with new artists only interpreting the music that dates prior to 1960. It is not vital and alive, changing and growing like rock and roll.
John Mellencamp
John Mellencamp is one of the giants of rock and roll. He is a rightly a member of the Rock and Roll Hall of Fame, with 22 Top 40 hits and membership in the club of rock and roll rebels and activists. His belief and support of the average person – us – has won him the Woody Guthrie and other humanitarian awards. He is a founding member and supporter of Farm Aid.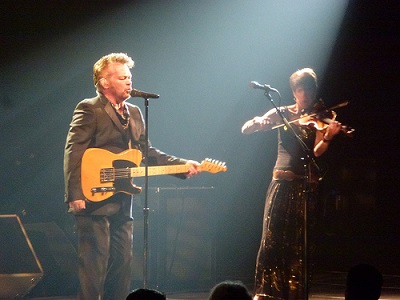 And he rocks. John Mellencamp grabs you by the solar plexus and says "dance", "shake your fist".
The audience went wild when he sang
"I fight authority, Authority always wins
Well, I fight authority, Authority always wins
Well, I've been doing it since I was a young kid I come out grinnin'
Well, I fight authority, Authority always wins." (words by John Mellencamp)
No one needed a subsidy to purchase John Mellencamp tickets at $100 a pop. Several people said they already saw him a week ago in Moncton, NB or Summerside, PEI.
In spite of the announcer and signs on the doors, people took videos and photographs of the concert with their phones and some pretty advanced cameras. The guy in front of me had 30 x optical zoom and captured a bead of sweat on Mellencamp's nose.
That's the way life is now – fans want to make their own mementos. It is in the best interest of the artist to just let it happen. Security only stopped one fan when she got in the middle of the aisle for an extended shoot and blocked everyone's view.
"Hail, hail rock and roll," sang Chuck Berry. "Deliver me from the days of old Long live rock and roll."
Got no kick against modern jazz
When Chuck Berry wrote "Hail Hail Rock and Roll" he knew that jazz was finished. He came up through the ranks of jazz musicians and learned plenty from the masters like his pianist Johnnie Johnson.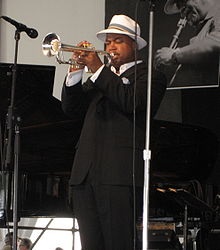 I have no kick against modern jazz either but it died 50 years ago. My father was a jazz drummer and raised us on Jelly Roll Morton, Duke Ellington, Louis Armstrong and Bix Beiderbecke.
I still have those records plus a decent collection of Coltrane, Monk, Mingus, Miles Davis, Dave Brubeck, and Sonny Rollins discs.
But in the early 1960s, rock and roll replaced jazz as the vital, compelling music medium for the masses to enjoy and express themselves.
One writer pegs the death of jazz in 1959. "Jazz died in 1959, writes trumpet player Nicholas Payton. "There maybe cool individuals who say they play Jazz, but ain't shit cool about Jazz as a whole. Jazz died when cool stopped being hip." On Why Jazz Isn't Cool Anymore.
Jazz is so uncool that it has been been nurtured by bureaucrats and un-hip people like a bank that advertisers to old people as stereotypical "geezers." Note to TD Bank – seniors are not uncool nor are they stupid.
Jazz is so uncool that I got myself ejected from covering a musical event for the first time in forty years as I wrote in Jazz Festival Hassles Reporter. I still like jazz but the current crop could pass for diner music with wine.
Rock and roll moves your soul.
I will have a full review of the Mellencamp concert next.
Photographs used with permission or Creative Commons license.
By Stephen Pate, NJN Network
You may also like –