Celebrating the 100th Birthday of Woody Guthrie – Woody played hundreds and here are some notables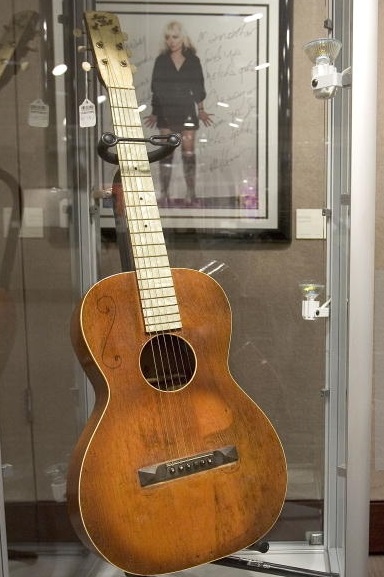 We don't know where many of Woody Guthrie's guitars are since Woody was fairly casual about property and his guitars.
Arlo Guthrie, his son, has a guitar his father gave him. Paul Allen, the founder of Microsoft is supposed to have one as well.
If they were available for sale, Woody's guitars would be very expensive to buy.
Guitars of famous musicians get premium prices. Bob Dylan's Fender Stratocaster from the Newport Folk Festival in 1965 is worth $500,000 to $1 million dollars.
I started this journey months ago asking the simple question: how close is the Gibson Woody Guthrie SJ to any guitar Woody Guthrie played. I learned that the Woody Guthrie SJ is very close to the guitar he bought in December 1943, but that was by no means Woody's only or main guitar.
Woody Guthrie identified with the working man. He would rather sleep on the floor, his New York friends reported, to keep himself ready for traveling on the road to be with working Americans. While he needed guitars as a singer songwriter, he had less interest in them as anything more than tools of his trade.
I want to thank all the other Woody Guthrie researchers, fans and guitar players who contributed stories linked here.
1930s Slingerland May Bell guitar
Woody Guthrie started his musical career in 1937 when he moved to Los Angeles and started to performing on KFVD radio with Jack Guthrie, with his cousin. The US was deep into the Great Depression and by 1937 the Great Plains had been reduced to the Dust Bowl.
One of the oldest guitars played by Woody Guthrie is a May Bell guitar, circa 1930. This guitar turned up in Seattle in 1966 with the handwritten notation on the label – "Property of Woody Guthrie OK. It was bought for $2, fixed up and re-sold for $200.
The 1930s May Bell guitar (above) he played was worth upwards of $70,000 in 2006. It was purchased by the George Keiser Foundation as part of the Woody Guthrie Archives kept in Tulsa, Oklahoma.
Woody Guthrie's Gibson Guitars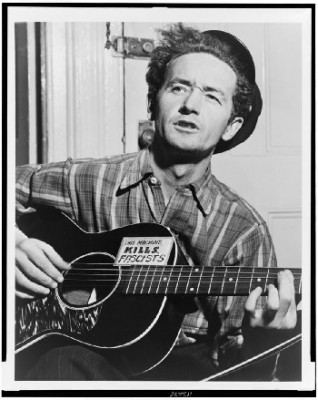 The Gibson Woody Guthrie SJ guitar is based on the 1943 Southern Jumbo, a tarted up J-45; however, Woody is also shown in pictures playing the smaller Gibson L-00 model.
The L-00 model was a small bodied guitar, 14 frets at the neck/body joint, black finish, 14.75&Prime wide, with the firestripe pickguard. "0, 00, and 000&Prime Gibson models refer to the trim level. With Martin Guitars the "0, 00, and 000&Prime refer to body sizes and styles – confusing eh?
A reader, Dirk Stallert, correctly suggested Woody has a Gibson L-00 in the picture.
Gibson changed the L-0 from sunburst to black and back to sunburst finish during the 1930s. Most sources agree his guitar was a black L-00.
The Gibson L-00 can be seen in several pictures from 1941 on. It is famous for the "this machine kills Fascists" label that Woody put on many of his guitars. Since Woody toned down any criticism of the Nazi's until after Hitler invaded Russia on June 22, 1941 we can safely date the picture after June of 1941.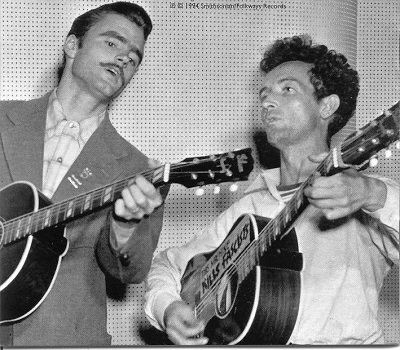 In 1942, Gibson introduced the J-45, a dreadnought guitar to compete with popular Martin D style dreadnought guitars.
The J-45′s sunburst finish started as a way to hide imperfections in the wood. Today, Gibson's sunburst is a coveted feature of the guitar.
In 1942 Gibson introduced the Southern Jumbo which was essentially a J-45 with better trim. Trapezoid mother-of-pearl replaced the J-45′s dots on the fretboard. While on leave from the Merchant Marine in December 1943, Woody purchased his Gibson Southern Jumbo in New York City.
When Woody and Cisco Houston showed up at the recording studio in 1944 for Stinson Records, they both had Gibson Southern Jumbos. These recording sessions produced by Moe Asch and Herbert Harris and form the largest body of Woody Guthrie recordings.
In the 1944 picture with Cisco Houston (above), Woody is playing a Gibson guitar. The L-00 came with dots not parallelograms on the fret board. The Southern Jumbo guitar is what Woody called "my big Gibson".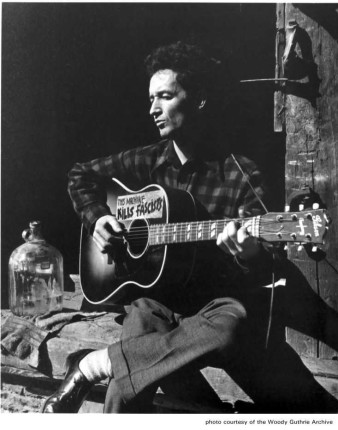 Gibson Guitars say they worked with Woody's son Arlo Guthrie to recreate the Woody Guthrie SJ and we will have to take them at their word.
"The Woody Guthrie SJ acoustic guitar (is) a painstaking and faithful recreation of Woody's beloved 1945 Southern Jumbo. The idea was conceived in 2002 when his son Arlo—a folk legend in his own right—visited the builders at Gibson Acoustic in Montana. That visit resulted in the eventual replication of his favorite guitar right down to an aged-like vintage replica finish." (Gibson Guitar)
"His J-45 was borrowed from somebody," said Steve Earle the guitar player, singer songwriter, and vintage guitar collector . "He was hard on guitars, and most of them he did not pay for. The famous Southern Jumbo, I don't know about. I think the Southern Jumbo might actually be one he purchased, because it's the guitar that he's playing in the pictures and on his radio show. He was an organizer, but had a radio show in L.A., so he might have bought that one." Steve Earle, Vintage Guitars
The Gibson Woody Guthrie SJ is a current production model from Gibson, although it can be difficult to find.
See Woody Guthrie Timeline – a pictorial history

Woody Guthrie's Martin Guitars
During 1938 and 1939, Woody began traveling to the camps of the migrant workers in California with actor and social activist Will Greer, who later played Grampa on 'The Waltons' TV series. They left California in 1940 and traveled together to New York City.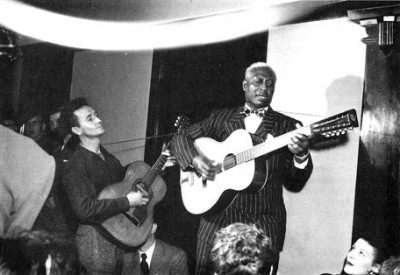 Steve Earle says Woody used a Martin 0-17 that belonged to Will Greer's wife.
"Most of the guitars associated with Woody never belonged to him. The Woody Guthrie Martin model 0-17 that belonged to Will Geer's wife, and Woody used to borrow it and disappear and get drunk. He'd finally f**ked it up so bad that they just let him have it."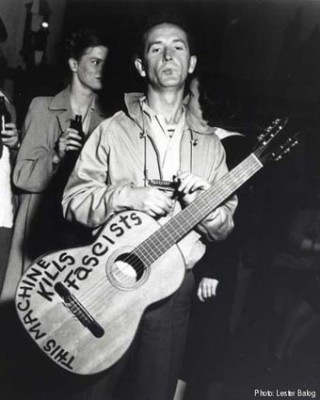 "I just know about that 000 because I tracked it down after reading the Joe Klein book Woody Guthrie: A Life – there's a story in there about him borrowing that guitar that came from Will Geer. That's one of the two "This machine kills Fascists" guitars. The original is a nylon-string, and I've never been able to figure out if he owned it." Steve Earle, Vintage Guitars
On the Unofficial Martin Guitar Forum they can't agree if this nylon string guitar is a Martin or just a Spanish guitar he picked up.
It may well be a Martin, which Woody preferred along with Gibson guitars. The slotted head was common for Martin guitars from the 1800′s on, the head has the distinctive Martin look and the bridge is almost identical to the one Martin used on their 60s model N-20, famously known as Willie Nelson's Trigger. However, the guitar label is round or oblong and C.F. Martin labels are always rectangular.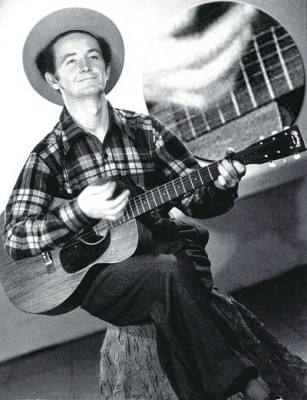 In this 1941 promotional picture Woody is holding a Martin 0-15 with mahogany top.
Woody had a few mahogany top guitars but most had spruce tops.
The C.F. Martin Museum of Modern Guitars describes the Martin 00-18 Woody Guthrie Commemorative Guitar not as a replica but inspired by his guitars.
"Woody had owned literally hundreds of guitars throughout his career, many of them Martins. He gravitated toward more affordable smaller bodied 0, 00, 000 mahogany guitars, and he would often give his instruments away to aspiring musicians along the way. Irreverently, he often wrote or drew on his instruments. Perhaps one of his more famous statements is: "This Machine Kills Fascists!", a quote which Woody painted on most of the guitars he owned.
"The 000-18WG Woody Guthrie Commemorative is a 14-fret 000 "auditorium" model inspired by the smaller bodied guitars of the pre-World War II era, Vintage 000-18′s are especially prized for their lightness, brilliance, and purity of tone. The back and sides are bookmatched from select solid straight-grained genuine mahogany. The rosette is inlaid in the vintage style with plain black inner and outer rings. The solid genuine mahogany neck is slightly V-shaped with a squared and tapered headstock bearing the old style Martin decal logo".
The Martin 000-18WG is not in production. One sold at Christie's for $4,700 in 2003. See Also Woody Centennial name that guitar.
By Stephen Pate, NJN Network