This article was last updated on April 16, 2022
Canada:

Oye! Times readers Get FREE $30 to spend on Amazon, Walmart…
USA:

Oye! Times readers Get FREE $30 to spend on Amazon, Walmart…Canadian composer Mychael Danna won the Golden Globe Award for his "Life of Pi" score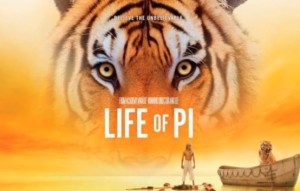 Life of Pi score by Mychael Danna wins Golden Globe Award
Mycheal Danna, a Canadian composer, won the Golden Globe Award for his film score for "The Life of Pi."
Danna, who was born in Winnipeg Manitoba and lives in Toronto, spent a year on the score that uses music and sounds from around the world.
The movie, "The Life of Pi", is about an Indian boy who is cast away at sea with a fearsome Bengal tiger.
The movie is based on the fictional book "The Life of Pi" by Canadian author Yann Martel who won the coveted Booker Prize for the book. Martel's parents were Canadian diplomats and he was brought up around the world which helps to explain his unique world-view.
The Golden Globe Award was given by a largely European press contingent to a movie about Hindu boy with education in Christian and Islam, directed by a Taiwanese-born film director, written by a French-Canadian author with Indian/world music composed by a Canadian composer.
Is "The Life of Pi" Bollywood? Most of the cast are Indian actors, the principal shooting was mainly in India. Even the 3D effects were partly done in Mumbai and Hyderabad.
The boy, Piscine Molitor "Pi" Patel, is an Indian boy from Pondicherry, in the Indian district of Ponducherry. Cast away on the Pacific ocean in a life boat with a Bengal tiger for 227 days, Pi explores human survival and spirituality.
It is an unlikely adventure that has captured the hearts of readers and now movie goers.

The film by director Ang Lee has been nominated for eleven Academy Award, including Best Picture, Best Director, and Best Visual Effects and Best Song, "Pi's Song".

"Pi's Lullaby" from "The Life of Pi"
Rotten Tomatoes, the movie criticism site, calls "Life of Pi" a "3D adaptation of a supposedly "unfilmable" book, Ang Lee's Life of Pi achieves the near impossible — it's an astonishing technical achievement that's also emotionally rewarding."
Composer Danna thanked many people in his acceptance speech including the director, as usual, and added a personal note thanking his parents, friends and children back in Toronto.
The Golden Globe Awards was a star-studded night of television hosted by Saturday Night Live alumni Tina Fey and Amy Poehler. The annual event of the Hollywood Foreign Press Association hands out 14 film awards and 11 TV awards.
While awards shows can be deadly boring, this one seemed to be both funny, entertaining and touching at the right moments.
The "Life of Pi" will be available on DVD, Blu-Ray and Blu-Ray 3D on March 5, 2013 and is available for pre-order on Amazon.com.
You can listen to the complete movie score on YouTube.
http://www.youtube.com/watch?v=QCzOK6p1sUo
By Stephen Pate, NJN Network
You can publish this article on your website as long as you provide a link back to this page.