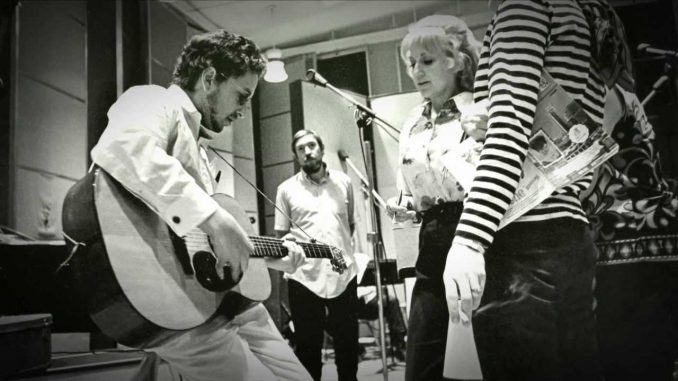 This article was last updated on May 25, 2022
Canada:

Oye! Times readers Get FREE $30 to spend on Amazon, Walmart…
USA:

Oye! Times readers Get FREE $30 to spend on Amazon, Walmart…How does a 40-year-old dud album from a 72-year-old singer reach # 1 ?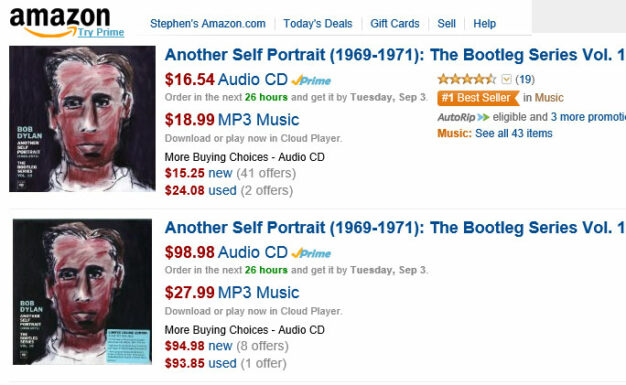 Bob Dylan – Another Self Portrait #1 Best Seller on Amazon.com
Well that's not true. The critics did pan "Self-Portrait" when it was released in 1970 but fans snapped the album up, making it #4 in the US and #1 in the UK.
The secret to how Dylan put the re-issue and out-takes at the top of the record charts is simply good old-fashioned marketing and promotion. Musicians who want to be successful should hire marketing people who understand the basics and how to execute. This release has all the right moves. Every fall Dylan likes to release something. Last year it was Tempest, his first CD of new material since 2009.
This year Dylan just released, as in yesterday, Another Self Portrait (1969-1971): The Bootleg Series, Vol. 10, which includes out-takes from "Nashville Skyline", "Self-Portrait", "New Morning" and if you shell out $100 the famous Isle of Wight concert with The Band.

The marketing campaign for Another Self-Portrait is a classic. First Dylan's marketing team, which means the Columbia Records marketing folks, created some buzz.
They started by reminding people that critics like Greil Marcus of Rolling Stone Magazine called the first release of the album a "piece of shit." That lead is inspired because they are selling right into their weakness. Every product has a weakness and one of the best ways to market is to lead from that point. Volkswagen used to promote the VW Beetle with the odd shape. It works. It gets people thinking about your product and hits the negativity right between the eyes.
The press release was leaked to a few key publishers like Rolling Stone and the New York Times 5 weeks before the CD release and the same day to people on Dylan's mailing list. Bob Dylan Bootleg Covers Nashville Skyline to New Morning (1969-1971) releasing August 27
A quick and cool informative video came out immediately on YouTube Bob Dylan's The Bootleg Series Vol. 10 Another Self Portrait (1969 – 1971).
There were five versions of the release offering different price points and value propositions: 1) a 2-CD version, 2) a 4-CD Deluxe version in a book format with the exclusive Isle of Wight concert 3) a 3-record 2-CD vinyl edition, 4) an MP3 edition of (1) and 5) and MP3 edition of the 4-CD Deluxe edition. Virtually the same product spans from $18 to $100 retail.
Other special editions offer posters. The multiple versions not only give the consumer choice, they create different value propositions and extra revenue for Bob Dylan and his record company.
Within the next week, the media comment on the re-issue. Is it a good idea? Is it dumb? How excited are you? I wrote Is Bob Dylan Giving Fans Another Snub with Another Self-Portrait?
Dylan / Columbia's next move was to resurrect the Web Sheriff take-downs of fan and pirate videos. Why? It creates more buzz among fans and the sense of his music as a scarce resource.
Three weeks from launch, Dylan amazed his fans at this summer's concerts with impromptu jams. For anyone who has ever toured with Dylan, this is new. It gets media attention since he is known to ignore everyone on tour. Bob Dylan, Wilco, My Morning Jacket Bringing Generations Together in Utah. Suddenly Dylan is hip, youthful.
At the end of the week, Dylan / Columbia released an evocative music video of a folk song on the CD Bob Dylan Pretty Saro A Lost Gem. The video gets more media attention as people start to realize this CD might be worth listening to. The song is fresh, emotionally engaging.
With just 2-weeks to go, Dylan / Columbia gave an advance copy of the CD to Rolling Stone to review. Another Self Portrait One Of Most Important Bob Dylan Albums Everyone spreads the story around since it's the only reliable source for information. Rolling Stone gives it a glowing review which is predictable.
One week before release and Just when that story has died down, Dylan / Sony gave NPR and CBC a 15-song stream from the 35 songs on the release. Stream Bob Dylan's Another Self Portrait. Some of it sounds great, other parts seem weak but it does keep the buzz going.
During the last week, more reviews appear and the mainstream media pick up on the story again.
One day before the August 27th release of Another Self-Portrait, Dylan / Columbia post a new documentary using other musicians who were at the recording sessions. Bob Dylan Another Self Portrait Documentary – the CD is # 3 on Amazon one day before release.
The CD is already #3 on the music best seller list by the time release day comes and pop! Another Self Portrait is # 1.
interestingly, Dylan has less appeal over on iTunes where the new album is #97. iTunes seems to be selling more pop hits that old folkies.
If you want the Isle of Wight Concert, there is a low-cost way to do it – buy the MP3 from iTunes or Xbox Music Store for about $30. That saves $70 over the Deluxe edition but you don't get the books. Of course, in the United States, the CD from Amazon.com also comes with the MP3 downloads. Sucks to be Canadian at times like this.
All of this marketing takes planning and execution by skilled marketing types. But for Bob Dylan and Columbia, the effort will pay off in millions of dollars in sales.
You can publish this article on your website as long as you provide a link back to this page.